Programs and More
A banner year for the Husky Band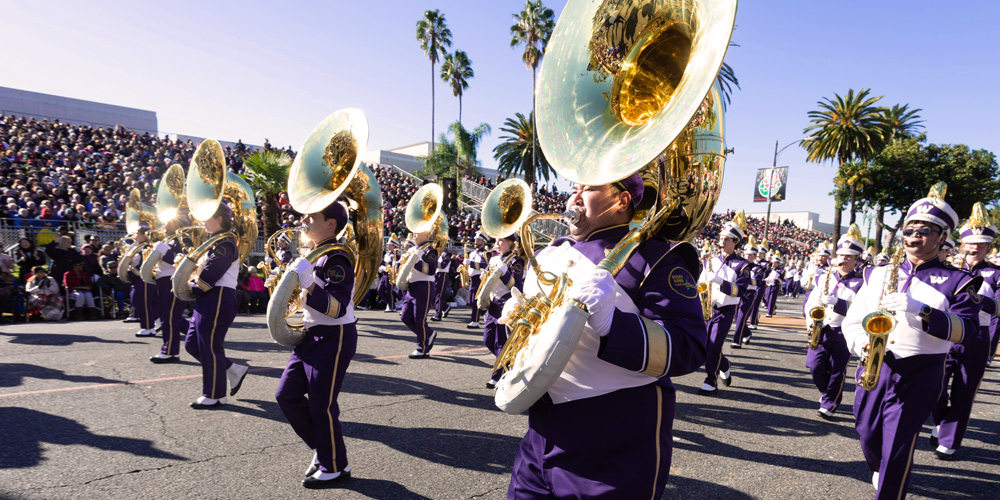 Students enjoy an awe-inspiring Rose Bowl experience along with some unexpected love from the Cougs
They're a rousing contributor to the gameday experience, encouraging school spirit, entertaining us at halftime, revving up the crowd when we're winning and cheering us up when we're down. The Husky Marching Band gives us their all. This school year, they've been rewarded — in both good times and bad.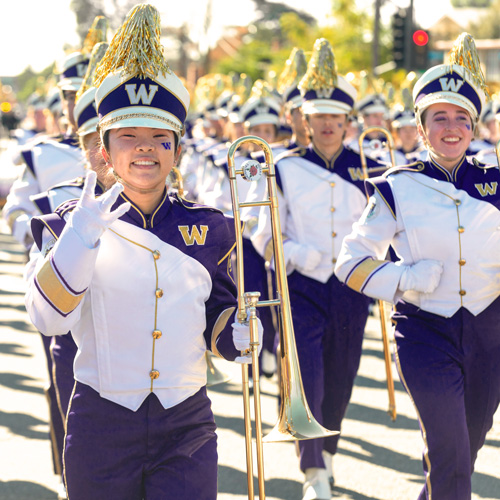 "We have 240 students from many backgrounds, some with marching band experience and some without, majoring in almost every degree program on campus. One year, we had nine different countries represented," says Brad McDavid, now in his 25th year as Director of the Husky Marching Band. "With that diversity, building a band family is something we take a lot of pride in."
When Husky Football returned to the Rose Bowl for the first time in 18 years, so did the Husky Band. They performed at Disneyland and alumni events, were up at 4 a.m. to march a grueling 6.5 miles in the Tournament of Roses Parade and strutted their stuff before an international TV audience at halftime.
It was a joyful experience that followed a sobering one. While traveling to the Apple Cup on Thanksgiving Day, one of six band buses overturned in bad weather. Countless members of the small community of George, in the heart of WSU country, welcomed band members to the elementary school gym, bringing turkey and leftovers from their own Thanksgiving dinners.
Brad chokes up when he recalls the text message he received from the WSU band director, asking for the music to the Husky fight song, Bow Down To Washington, so the Cougar Band could play it at the game in the Husky Band's absence. "It was an incredible gesture," he says.
This year of ups and downs had one constant: the unwavering support of Husky fans. Your donations helped to fund travel to away games so the band can lend a hometown feel when Husky Football is on the road.
"We are one of the few bands in the nation that continues to go to most away games and our ability to do that is because of the generosity of our donors," Brad says.