Donors and Difference-Makers
A celebration of generosity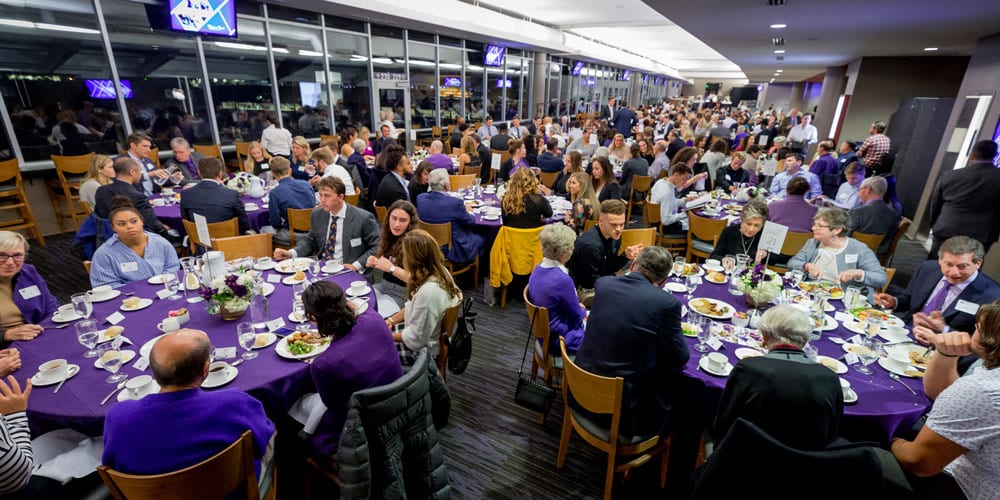 As student-athletes and endowment donors came together for the 21st Donor Appreciation Scholarship Dinner, speakers reflected on the iconic traditions of community support for Husky Athletics and on its lifelong impact on student-athletes. Here are excerpts from some of the speakers' remarks.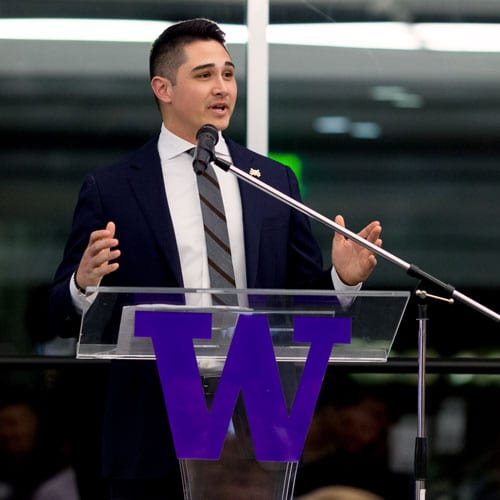 JOSH FREDENDALL
Alumnus, Baseball
"Student-athletes, you are uniquely aligned to succeed after sports. I see my student-athlete experience reflected every day in how I approach my work and how I build relationships with my clients [as a wealth manager with Merrill Lynch].
"As an elite Division 1 athlete, [you have learned] to collaborate, to be a team player, to work toward a common goal, to be a real leader. That's what it takes to be a Husky. That's what it takes to be a successful professional in any field.
"Donors, you give us the chance … to go on to meaningful careers, to be model spouses and partners, to be caring members of the community, and to be Huskies for life who'll pay it forward tenfold. There is no better place in the world to develop as a human being than in the UW Athletic Department."
YASMIN FAROOQ
Head Coach, Women's Rowing
"The University of Washington has a remarkable history in college athletics over more than a century. Even back in the days of The Boys in the Boat in the 1930s, before Rowing was able to offer any scholarships, this community stepped up big time to send those boys to Berlin.
"Because of you, nearly 250 endowed scholarships now bear the names and represent the passions of people who not only care about Husky Athletics today and tomorrow, but who leave a legacy of their own long after they're gone.By endowing a scholarship, you live on as an individual, a couple or a family who puts education first, giving many student-athletes the opportunity to earn a UW degree that they'd otherwise never be able to afford."
JAYLEN JOHNSON
Post-Baccalaureate, Football
"I didn't want to go to college just to become a better football player. I wanted to go to college to become a better man. You have to practice hard to be a good football player. You have to practice being a good human being, too. Thanks to my experience at Washington — thanks to my scholarship — I'm working on both those things every day.
"I'm taking education courses this school year with a long-term goal of earning my master's degree to become a high school history or government teacher and a coach. One day, I hope that I will inspire young men and women to strive for excellence in academics, in competition and in life — just like my teachers and coaches have inspired me."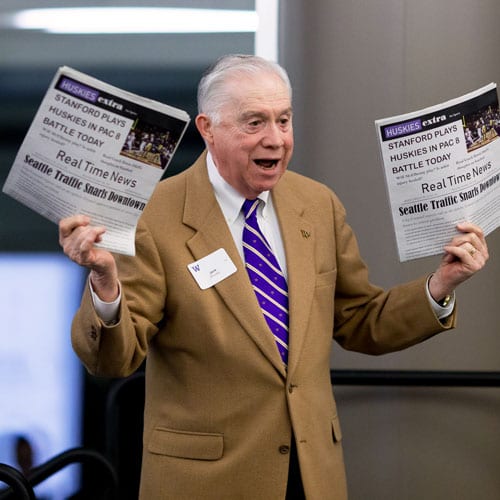 JACK RHODES
Endowment Donor
"All the donors in this room are blessed to be able to give back. And we choose the student-athlete because we've all got Type H — Husky blood.
"Why? Because you make us proud. You show us on the field how good you are athletically. But more importantly, you show us off the field who you are as people and who you'll be when you graduate. You are heroes for the younger generation, and for generations significantly older than you, you are truly admired."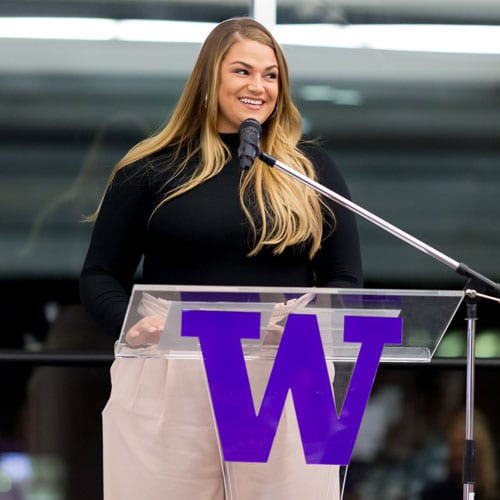 TARAN ALVELO
Senior, Softball
"When I graduate this coming spring with a degree in American Ethnic Studies, I will become the first person in my family to earn a college degree. That would have been impossible for me to ever afford without your generosity.
"You've given me incredible opportunities to learn and grow, to make Husky fans proud in our march to the Women's College World Series, and to develop relationships with my teammates, coaches and many of you that I'll value for the rest of my life.
"Being part of this team has made me a better person."

The impact of a scholarship endowment

Nothing makes a longer-lasting impact on someone's life than a college education. And no one makes a bigger impact on the scholarships that give Husky student-athletes access to a life-changing UW education than the donors who establish scholarship endowments.

With your support, The Game Changer Campaign for Husky Athletics will increase our endowment total to $100 million and move us far closer to the goal of endowing all our scholarship costs. To learn how you can set up an endowment that will provide scholarships to student-athletes year after year after year, contact the Tyee Club at 206.543.2234.