Donors and Difference-Makers
Cohn Award honoree Pete Shimer lauds 'the opportunity to give back'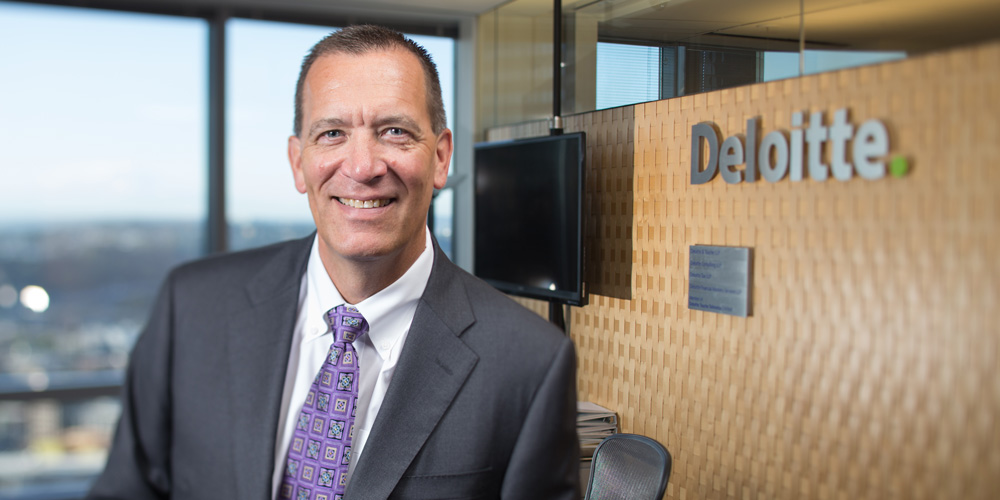 Photo credit: Foster School of Business
Every day during his more than 35-year career with Deloitte, now as Chief Operating Officer, Pete Shimer says he employs the values and skills he honed as a UW student-athlete in the early 1980s.
"I cherish to this day the lessons I learned: how to scout the opposition and prepare, to be an effective teammate, put your head down and compete, and come back from defeat," the former Husky Basketball player says. "After I graduated, I felt compelled to begin to give back immediately."
From giving of his time as a young professional during the 1989 NCAA Final Four in Seattle, to serving on the Tyee Club Advisory Board, and donating generously to support the Athletic Department, Pete earned the 2019 Dave and Ruth Cohn Alumni Merit Award.
The Foster School graduate explains that he and his wife, Laurel, who was a Husky cheerleader, developed four guiding pillars for their philanthropy centering on youth, education, athletics and faith. Their gifts to Washington Athletics include supporting academic and career/life preparation programs as well as endowing a Women's Soccer Scholarship. Their daughter, Sarah, was a UW goalkeeper and all four Shimer kids earned UW degrees.
"I feel so fortunate to have had the experience of being a student-athlete at UW," Pete says. "I'm grateful now for the opportunity to give back and make that experience possible for other young men and women."
View the full list of past Dave and Ruth Cohn Alumni Merit Award and Frank Orrico Award winners.