Donors and Difference-Makers
'Hug your scholarship donors, Huskies!'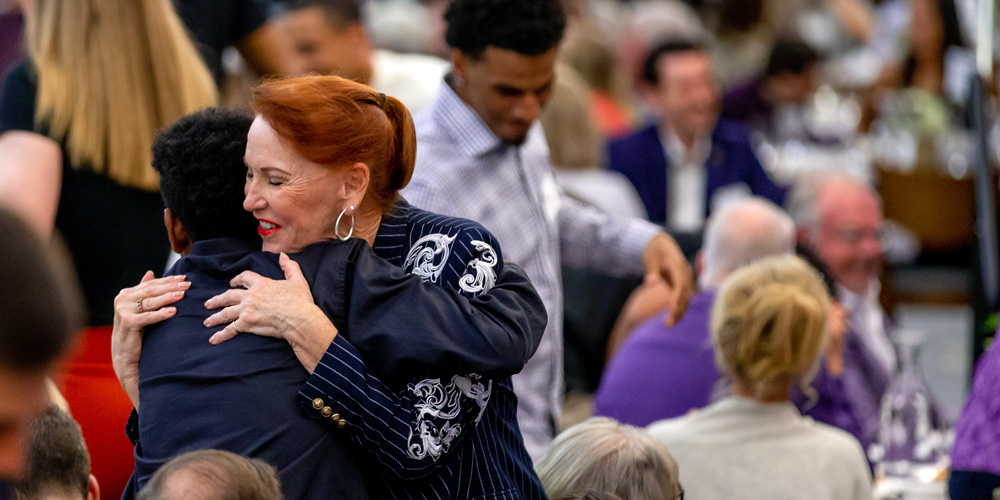 Student-athletes join the Tyee Club in showing their deepest gratitude
In a room filled with 250-lb. football players, tiny but powerful gymnasts, and every size and sport in between, scholarship donors took center stage at an annual event to honor their generous contributions.
"Hug your scholarship donors, Huskies!" shouted an exuberant Mike Hopkins, Husky Men's Basketball head coach, who wrapped up an evening of emotional remarks. "Donors, you make everything we do here possible."
Two student-athletes, a former Washington Women's Basketball player and a scholarship donor proved Coach Hop right as they told their stories from the stage at the Don James Center in Husky Stadium.
'You're helping entire families, too'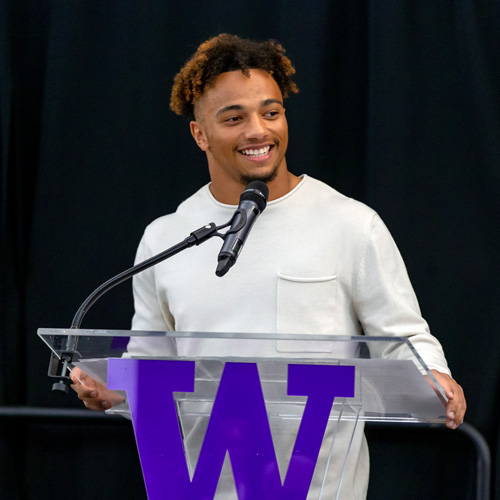 Defensive back Myles Bryant always dreamed of playing in the Rose Bowl — for USC.
Growing up a stone's throw from the Southern Cal stadium, Myles was a fan before he even started kindergarten. Although he was a high school standout, all but one small-school scholarship offer dried up by the time he graduated. Myles took a leap of faith to walk on at Washington.
"I was confident I could make the team, but it was a big risk for me and for my parents," he explained. "My father had owned his own real estate company and did really well until the housing crisis in 2008. He fought so hard to keep his business and to support our family, but the crash hit too hard and he lost it.
"But my family believed in me. And, despite the financial hardship, they stepped up to pay out-of-state tuition and I took out some student loans to follow my dreams to Washington."
It didn't take long for the chance to pay off. Myles proved his worth and earned a scholarship. And in 2018, he proudly played in the Rose Bowl game — for the Huskies, of course.
"All of you endowment donors here today lift that stress and burden from so many of our families. You're not just helping all the student-athletes here fulfill their dreams, you're helping entire families, too," Myles said.
'You've given us our futures'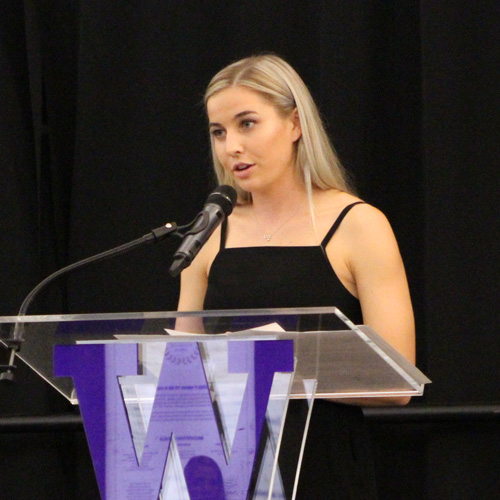 Like Myles, Husky Softball shortstop Sis Bates adored her sport before she learned to read. Unlike Myles, she was always determined to play for Washington.
A 10-year-old Sis watched on television in her hometown of Ceres, California, as Washington won the Women's College World Series in 2009. She decided then and there that she was going to be a Husky.
"It was the first time I realized that I could play softball in college and that it could be a pathway to a scholarship and a great education," recalled Sis, the daughter of two cannery workers and, along with her brother Jimmy, the first in the family to earn a degree.
The two-time All-American realized her dreams, and thanked donors "for giving this incredible experience to all of us who are benefiting from endowed scholarships. You've given us our futures.
"Today, even after trips to the College World Series myself, even after living this dream every single day… sometimes I'll find myself on the field, looking around, and still not quite believing that a small-town girl like me is really here," Sis said.
"Wherever I am, whatever I do, I will always be a very proud Husky. I will always love softball. And I will always be grateful for your generosity and support."
'Everything I am today was shaped right here at UW'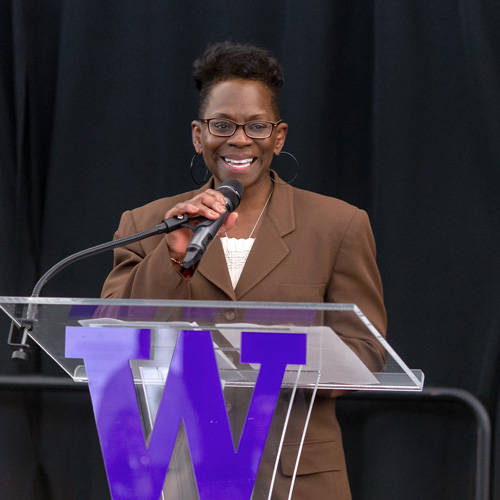 Ingrid Russell-Narcisse ticked them off one by one — all the lessons she learned on the basketball court that she still puts to use today as a mother, a friend and a marketing executive with the Seattle Mariners.
"The confidence and drive to do my best in all things. The belief that all my dreams are within reach and that my thoughts can become reality," noted Ingrid.
"I learned that there are no limits, and even though you are only 5-foot-4 and a walk-on turned scholarship athlete, the only thing stopping me — well, there is nothing that can stop me.
"Everything I am comes from the thoughts and experiences of yesterday. And those thoughts, that mindset, was shaped right here at the University of Washington," she added.
"Thirty years after graduating, I am living proof that support like yours can change the course of someone's life. Thank you for making that life-changing difference."
'We choose to invest in young people'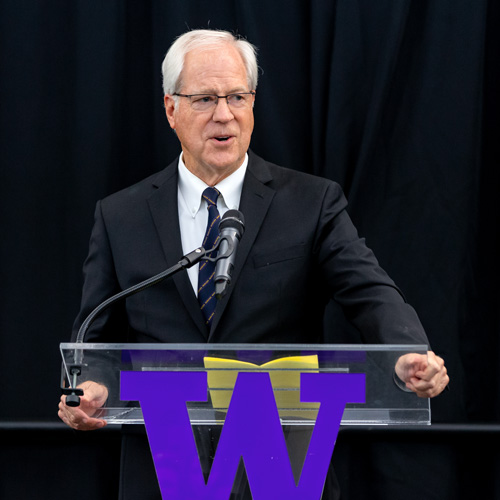 When Craig and Marilee Eerkes had their first conversation with the Tyee Club about endowing a scholarship for Husky Football, it didn't take long for them to respond with an enthusiastic 'Yes!' The Tri-Cities couple had been "seat-related" donors for years, contributing as football season-ticket holders, and gradually learned more about UW Athletics' vision and philosophy.
"We learned that student-athletes, their education, their preparation for life after sports always comes first. That resonated with us," Craig told the crowd.
Because the principal of endowed scholarships remains intact with investment proceeds funding annual support for student-athletes, the Eerkes considered it a worthy investment. Most importantly, it was a "fitting and healing way" for them to honor the memory of their daughter, Laura, who died in a car accident when she was 17.
"We want to give young people the chance to better themselves, to pay back the good fortune we've had by sharing those kinds of opportunities," Craig said.
"We choose to invest in young people.
And what better return on investment can you get than one measured in the next generations' future success. Thank you all for sharing in the vision to do just that."
If you'd like to invest in the future of young people,

call the Tyee Club at 206.543.2234 to learn how you can endow a scholarship. Or, make a gift of any amount to The Competitive Edge Fund, which helps Husky student-athletes become leaders in competition, in the classroom and in life.