Student-Athletes
One giant LEAP into college
Tough summer academic program introduces student-athletes to life at the UW
Academics didn't come naturally to Olivia Mikkelsen. She had to work hard to earn good grades — and she did. Even though the Husky Volleyball player felt well prepared for her first year at Washington, she decided to devote a month of her summer break to LEAP, the Learn Experience Achieve Program.
The Tyee Difference has featured LEAP in the past. A deeper dive into the program reveals its impact on incoming freshman student-athletes who get a crash course in the rigors — and joys — of academic life.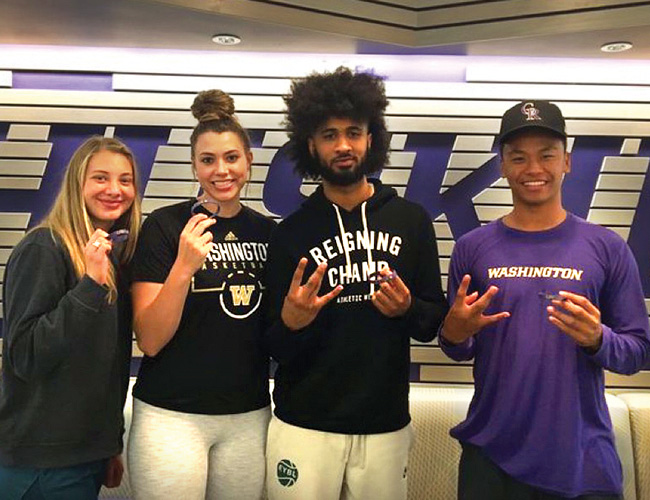 About 50 first-year students arrive at UW Athletics every year. Like Nine Mile Falls, Washington native Olivia, some of them benefitted from very good high school educations. Others may have gone to less challenging schools, might struggle with their studies or feel nervous about college academics.
"LEAP helps them transition from high school to college successfully," says Pam Robenolt, Director of Learning Resources for UW Athletics. "They learn how college works and how to develop new academic skills. They build their confidence as LEAP takes away some of their anxiety. It sets the tone for the next four or five years."
Over four weeks in the summer, student-athletes take a 5-credit English class that typically spans 10 weeks during the school year. They write three major papers, learn to research topics and create bibliographies, flex their critical thinking skills through class debates and writing assignments, and "examine the challenges and strategies of analysis and scholarly inquiry," according to the class syllabus.
"Getting to meet other student-athletes going through the same transition, having that first tough English class under my belt, and learning skills for my education, I'm so thankful I had the LEAP program!" Olivia exclaims. "I learned a lot about college academics, different writing styles, research — and I also learned a lot about myself."
Pam says the course is quite rigorous so students "know they're in college and not in high school, and they feel really proud of themselves when they're finished."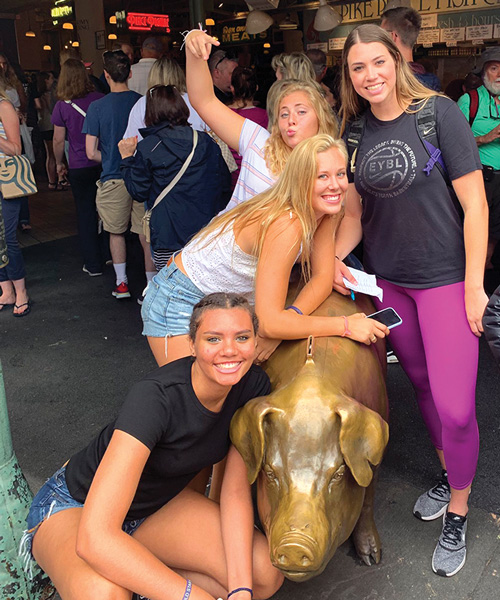 LEAP also includes a 1-credit general studies class that focuses on study skills, time management, budgeting, nutrition, mental health and how to access all the resources UW Athletics provides for students' growth, development and academic success.
"Fridays on Foot" introduces student-athletes to their community — something their busy schedules might not allow during the school year. They've done scavenger hunts at Pike Place Market, visited MoPOP and explored the city from the sky with Wings Over Washington.
"They all stay in the same dorm, so they have a lot of fun outside of class time, too," says Pam, "and they make lifelong friendships outside their own team."