Student-Athletes
Six years of ups and downs prepare UW Softball player for life
Catcher Morganne Flores excels as a leader, on the field and off
For someone who admits she was "awful" at most sports as a kid, Morganne Flores certainly has boasted impressive accolades in her six years with Washington Softball: All-Region, All Pac-12, All-American, and the first Husky ever to win the Johnny Bench Award as the best catcher in the nation.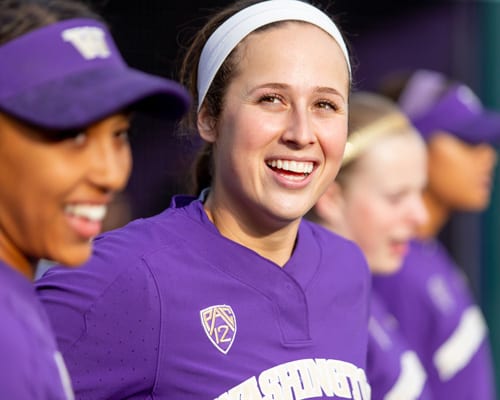 Now, let's hope she adds World Champion to that list.
As this issue of The Tyee Difference went to press, the #5-ranked Huskies were 35-9 overall, 13-4 in the Pac-12 and driving toward the Women's College World Series in May. Morganne, the team's most seasoned leader, credits their success to "the love we have for each other and a common appreciation for being together again. Each game we're growing together and going in a positive direction."
Morganne's stellar career behind the plate hasn't been an easy journey. Early in 2018, she tore her ACL and was forced to sit out the entire season, which culminated with Washington earning a berth in the World Series final.
"I had to figure out how I could contribute even if I wasn't on the field, how I could still be valuable and give to my teammates," she reflects. "Now, I'm really grateful that injury happened. I feel I'm a better player for having gone through that learning year."
Head Coach Heather Tarr calls Morganne "a quiet, humble young woman who leads by example. After six years on the team, she continues to grow and improve every day. With her work ethic and perseverance, she is an outstanding model to our younger players."
After earning a bachelor's degree in environmental studies in 2019, Morganne returned this season as a sixth-year "super senior" to continue her master's degree studies in higher education leadership. Then, she found herself struggling with anxiety and depression.
"I was able to get help thanks to the great resources we have here," she explains. "I wouldn't have been able to overcome it without the UW."
She thanks Tyee donors for funding services like mental health counseling and for all the "life-changing opportunities that truly set us up for great lives."
Softball Performance Center Groundbreaking

Building for the future: Softball breaks ground on state-of-the-art, 5,500 square foot performance center, the first project for a women's sport to be fully funded by donors.