Programs and More
'This changed my whole perspective on life'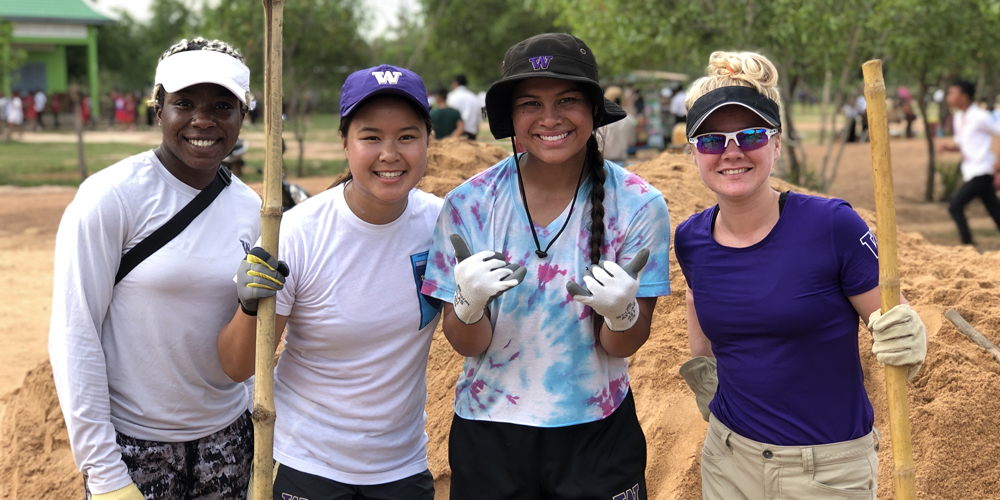 From the centuries-old religious ruins of Angkor Wat in Cambodia to the windswept golf courses of Ireland, the Dutch Parliament building in The Hague to the most iconic landmarks of Rome, the world opened up to Husky student-athletes this past summer — thanks in large part to your generosity.
Purple Passport
The Purple Passport program, funded by dedicated Tyee Club donors, provided an extraordinary service-learning opportunity for 20 student-athletes from nine different sports. Without access to the internet, air-conditioning or other comforts, the group joined the nonprofit Courts for Kids to transform a poor school in Cambodia into a center of local community life.
Sleeping in the school's library and storage area beneath fans and mosquito nets, the Huskies danced, dined and celebrated with village residents. After building the sport court in four days, they explored local markets, Buddhist temples and the tragic "killing fields," which bear the remains of more than 1 million people.
"I noticed how these people don't have much, but they don't seem to be ashamed or down about it. This changed my whole perspective on life when it came to happiness. In America, we have a certain ideology on how we can achieve happiness through materialistic things, but the Cambodian people… showed me that they could go to school without shoes, without a car, or anything that we all deem as nice materialistic things, and still be happy with what they do have, which is the present moment of being alive."

Myles Bryant, Football
"Without the complexity of having our phones, we were able to be completely present with each other and ourselves. Relationships were built on authentic conversations and the ability for us to be vulnerable with one another. Despite the language barriers, we were able to communicate through our common goal of spreading kindness and happiness with everyone."

Vanessa Wong, Women's Tennis
Study-Abroad in the Netherlands
In partnership with the UW Comparative History of Ideas program, a study-abroad trip to the Netherlands for 18 student-athletes was the culmination of intensive classroom learning about racism in what is typically perceived as a tolerant culture.
"They learned about discrimination against Moroccan Dutch people along with the historic erasure of Black culture throughout history," explains Rachael Dunn from UW Athletics Academic Services. "We met with politicians and activists to understand how another country has struggled with racism."
"The biggest lesson I learned in Amsterdam was to stop and listen to what is happening around you. People are hurting and trying to help themselves and others, yet no one is listening to them. If one person in authority would stop and listen to what the minority is saying, the religious and racist distress could begin to mend. So, I will now do everything in my power to listen to the people around me to ensure I am doing everything in my power to help create a little bit of peace in our world."

Marin A. Grote, Volleyball
Team Trips to Ireland and Italy
Donor-funded team trips — open just once every four years under NCAA rules — gave Men's Basketball the chance to compete and learn in Italy, while Men's Golf honed their game on six of Ireland's most iconic courses.
"It was an eye-opening experience that exposed all of us to a different culture. Basketball was a big piece of the trip, but the memories made there and the overall experience is something I will remember for a lifetime."

Hameir Wright, Men's Basketball