Four generations of Huskies are changing the world, one gift at a time.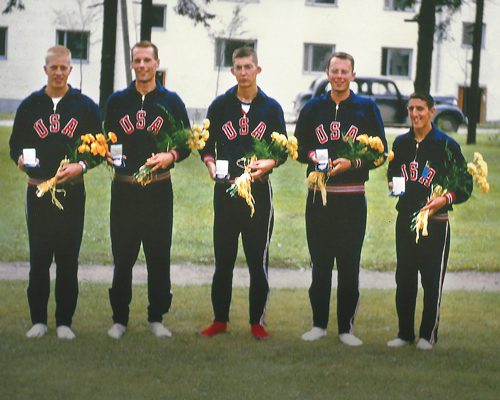 Husky Hall of Fame rower Carl Lovsted Jr. and his UW teammates earned a bronze medal in the 1952 Olympics in Helsinki, Finland. Nearly 70 years later, his namesake boat continues the family legacy in national championship-winning style, while Lovsted endowed scholarships benefit new generations of Husky rowers.
The family's Washington connections started in the 1920s, when George and Helen Clarke met as students. Thirty years later, their daughter, Louise, met future husband Carl Lovsted Jr. at the UW. Then, the third generation kicked in with sons Carl III and Jim signing on to the Rowing team, while daughter Karen became a Husky swimmer in the 1980s.
From those deep roots bloomed a legacy of generosity that will live in perpetuity.
"Jim and I had never rowed, but we knew about the program and its history from our father," explains Carl III, whose wife Carrie also graduated from the UW. "My dad came from a family without means, and we knew what the program had provided to our family. Our parents wanted to help Washington Rowing continue to be the best program in the nation."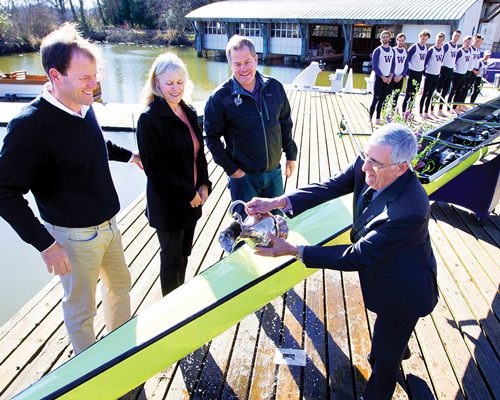 Carl Jr. and Louise established two scholarship endowments, which will support Rowing student-athletes for decades to come. When Louise passed away, her spouse donated a shell in his wife's honor. Their kids did the same to honor their dad when he passed. Football season-ticket holders since 1977, Carl and Carrie were inspired to do more this year, so they funded a new endowment for Husky Football.
"A lot of these kids would never be able to come to Washington without scholarships," says Carl. "They are so dedicated and driven to succeed, just great kids."
Today, a fourth-generation Husky carries on the family traditions. Carl and Carrie's daughter, Lindsey, is a senior in the Foster School of Business.
"We hope all our kids (including older daughter Christie and son CJ) will carry on the tradition of what our father started," says Carl. "You never know how you can change the world through a gift to the Huskies."