Young alumni and fans unite in Husky pride
The Young Tyee Club gives you the opportunity to engage with other fans while making a difference for the Huskies. In addition to connecting new alumni with each other and with Husky Athletics, the Young Tyee Club is a growing force of philanthropy to support student-athletes and winning teams. Members support a scholarship fund that helps the University provide a world-class education to student-athletes.
The Young Tyee Club is open to any UW fan under 35 who makes a tax-deductible donation $50 or more per year to Husky Athletics.
To become a member, donate online to The Competitive Edge Fund and then contact us to be added to the Young Tyee Club roster.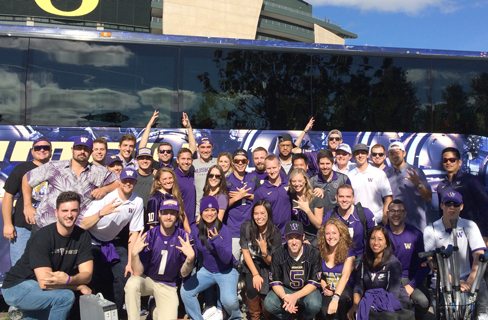 'It's meaningful and fun!'
One by one, dozens of die-hard Dawg fans file onto a charter bus bound for Oregon. These fired-up members of the Young Tyee Club live and breathe purple and gold.
In the stands at Autzen Stadium, they went wild — over and over — as the Huskies trounced the Ducks 70-21.
"Witnessing a victory like that with fellow Husky friends, new and old — it was a day I'll never forget," says Andy Palmer, who joined the club after graduation in 2012 and now supports it as a volunteer leader.
"I feel really good about giving back to UW," Andy says. "It's meaningful, and it's a ton of fun!"