Make a difference for your Huskies — give today!
COVID-19 has triggered an unprecedented and potentially devastating financial deficit for Washington Athletics. The costs to ensure student-athletes' safety, coupled with the loss of ticket income and other critical revenue sources, leave us with a gaping hole in our budget that only your generosity can fill.
Now more than ever, our 650 student-athletes and 22 teams need your support. When you give, you provide essential academic, medical, student development and mental health services needed for the well-being and holistic development of our student-athletes.
"Rowing has always been my passion, and I'm so grateful to have been able to compete for the University of Washington. Now that we're all away from campus, I truly value my sport, my teammates and supporters like you now more than ever."
— Marley Avritt, Rowing
There are many ways that you can support your Huskies: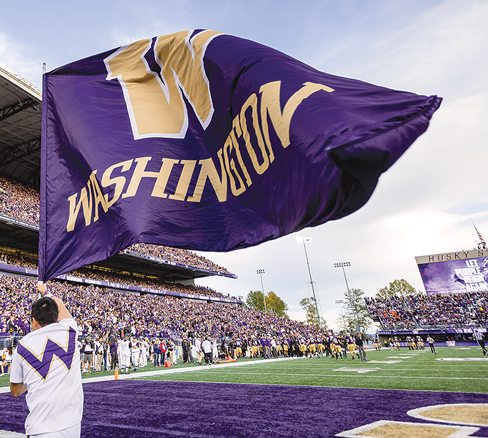 Provide essential support to student-athletes. Help offset the devastating impact of COVID-19 by providing essential funding for student-athlete scholarships, academic support, nutrition, training and more.
Fund Husky super seniors. Fund scholarships for UW senior student-athletes who lost their 2020 seasons due to the COVID-19 pandemic, but return in 2021 for a final chance to compete.
Give in honor of your favorite team. Support your favorite team — and every other Washington sport — with a generous gift to The Huskies All In Fund.
Become a Game Changer. Earn the designation of "Game Changer" by making a tax-deductible gift of $50,000 or more to The Huskies All In Fund.
Establish an endowment. Invest in the future of student-athletes by creating an endowment that will provide a perpetual source of scholarship funding. You may also wish to lend your name to an endowed coaching position or to a program endowment.
Leave a legacy. Forever Washington is our special giving society for Tyee Club members who remember UW Athletics in their wills or other estate plans. Your passion for the Huskies can live on with a legacy gift.
Increase the impact of your gift through employer matching. First, find out if your company matches gifts to the University of Washington. Then, fill out and submit your company's matching form to increase your impact on student-athletes.