Make a difference for your alma mater
What's your very best memory from your days as a Husky student-athlete? There are too many to count, right? And how has your UW education helped to shape your career and your commitments to work, family and community? Impossible to measure. Give back to what's given so much to you. Donate to Husky Athletics today. You may make your gift to support the Big W Club, the Big W Endowment, the sport that you participated in as a student-athlete, or to any one of the funds and programs that support UW Athletics.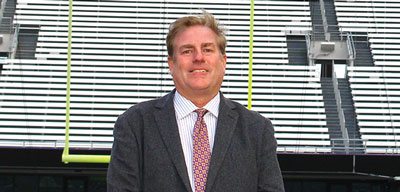 A grateful receiver gives back
Jim Simpson bleeds purple – always has, always will.
Some of his earliest and fondest memories happened at Husky Stadium, where he cheered on his favorite football team with his father, a UW alum, dentistry professor and die-hard Dawgs fan.
He marveled at Sonny Sixkiller's passing prowess, witnessed Warren Moon's MVP performance in the Huskies' 1978 Rose Bowl victory, and like so many young football players in Seattle, dreamed of playing for Coach Don James someday.
"When it came time to go to college, there was no doubt where I wanted to go," says Jim, a longtime Tyee Club donor who recently created a program endowment for the Big W Club and plans to add to it in the future through Forever Washington, a giving program for those who remember UW Athletics in their wills.