Programs and More
A winning year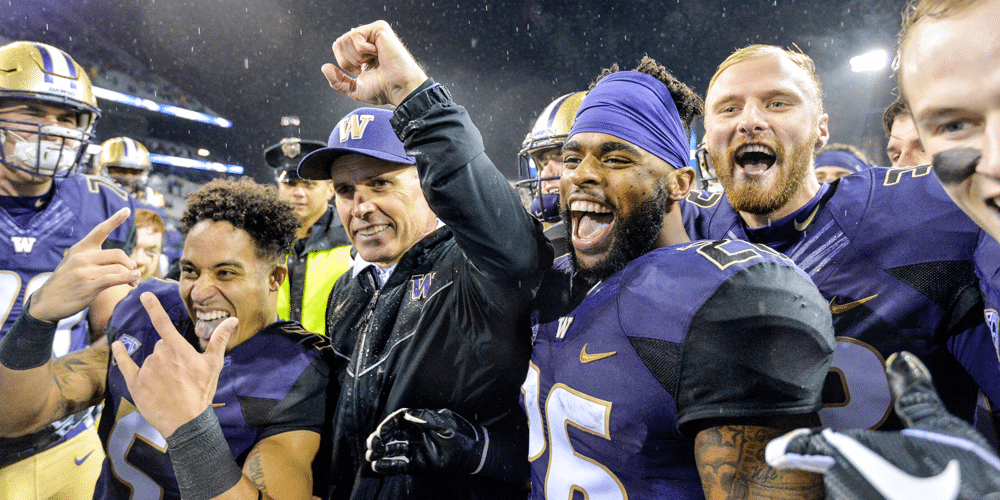 Your support makes every Husky student-athlete a champion — as students, as athletes, as leaders who will shape the future for us all
The 2017-18 school year was remarkable in countless ways — from Husky Baseball's first-ever trip to the biggest show in college baseball to a fifth consecutive Apple Cup win for Football to record-shattering academic performance. Here are just a few ways that the generosity of Tyee Club members helped build champions last year.
All-time best scholars
Fall 2017 boasted all-time records in academic achievement: Twenty-one of our 22 teams earned a team-average 3.0 GPA or better, with three out of four student-athletes reaching or bettering that 3.0 mark. Fourteen student-athletes earned perfect 4.0s. Gymnastics set an Athletic Department record best GPA at 3.67 and Football, Softball, and Women's Track & Field and Cross Country all set team record GPAs.
#1 in Pac-12 academics
Washington Football took first place in the Pac-12 Academic Progress Rate — which represents a four-year rolling average of academic progress and retention — becoming the first team to ever beat Stanford.
21-13 and Coach of the Year
Men's Basketball recorded its best season-to-season jump in wins in more than 80 years, finishing the season 21-13, including marking the biggest improvement in conference play in UW history. First-year Head Coach Mike Hopkins was named Pac-12 Coach of the Year.
Rowing champs
Men's Rowing and Women's Rowing each earned Pac-12 titles, with the Husky men winning the national championship and the women earning second at NCAA Nationals.
5 to the NFL
Vita Vea, Dante Pettis, Will Dissly, Azeem Victor and Keishawn Bierria were drafted to play pro football following a season that saw the Huskies earn a Fiesta Bowl berth.
52-10 and oh-so-close
Washington Softball made it to the final game of the College World Series before falling to Florida State. The Huskies ended the year with a record of 52-10, the third-most wins ever and their best record since 2010.
Post-season kudos
Congrats to Women's Tennis, Women's Golf, Gymnastics and Track & Field, which all sent players to post-season play.