Student-Athletes
Learning by example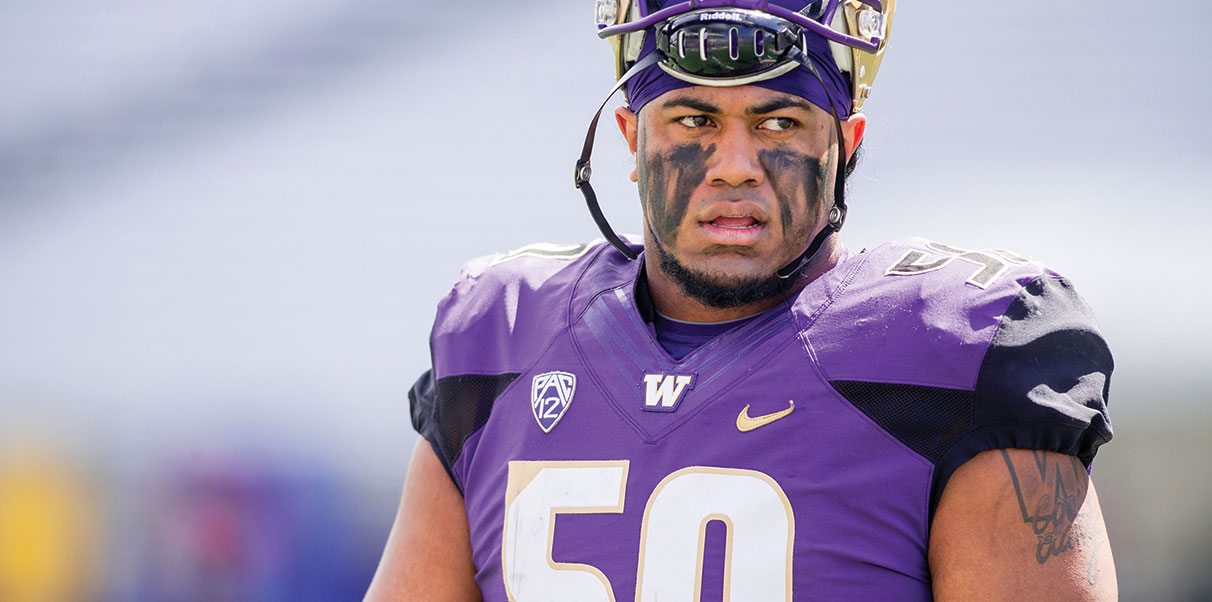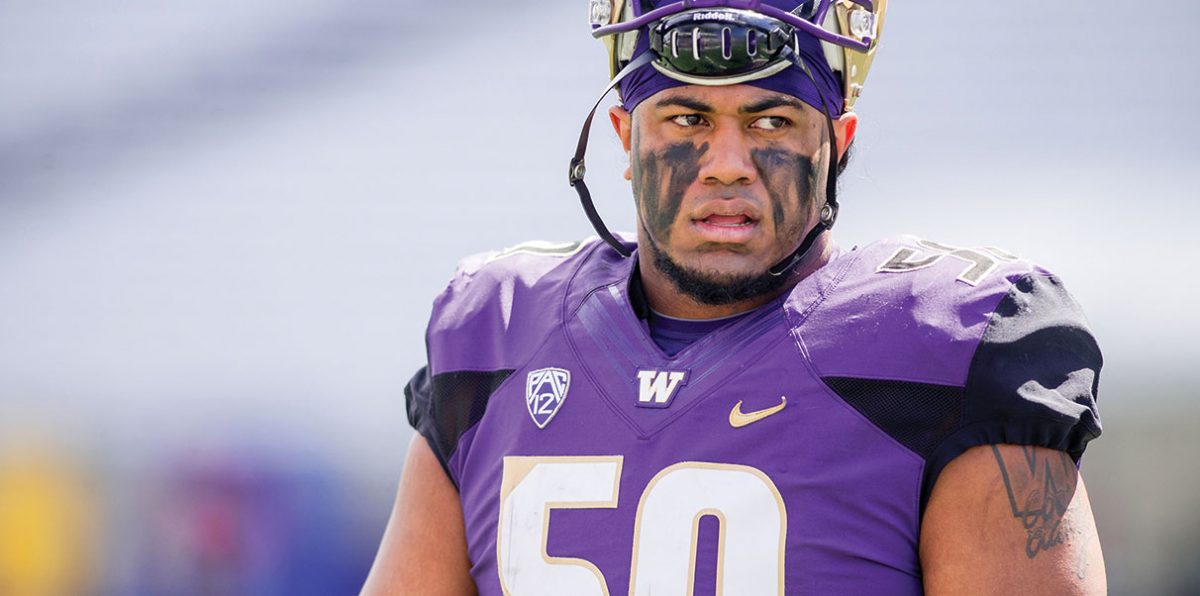 Defensive lineman Vita Vea is living up to the expectations he and others have set for him
Vita Vea's mother worked so hard while he was growing up, holding down as many as five jobs at a time, that her family often would see her only on Sundays. Her selfless commitment was one of several life lessons that fueled the defensive lineman's determination to excel as a Husky student-athlete.
His parents came to the poor and violence-plagued town of East Palo Alto, California (in the early 90s, it had the highest homicide rate in the nation) from the Polynesian island nation of Tonga. Vita saw countless athletically-talented friends squander their potential to drug abuse.
He idolized his older brother, Sifa. When Vita and his father had to drive Sifa to juvenile hall to face up to a youthful bad decision, another life lesson made an impact.
"It opened my eyes," the junior starter recalls. "My sister, Alisi, was in college and my parents were always working. With Sifa gone, I had to grow up on my own." (His brother grew up, too, and now plays football at Dickinson State in North Dakota.)
It was Vita's senior year in high school. A lackadaisical attitude up until that point, coupled with a learning disability, had affected his grades. Football, and a neighborhood coach he called Uncle T, were the encouragement he needed to stay in school.
In order to graduate, he started school at 8 a.m. and took night classes until 8 p.m. To meet NCAA eligibility requirements, he added an extra year of tough classes after high school graduation.
His freshman year at Washington, Vita made the Dean's List. One of the Athletic Department's learning specialists, Pam Robenolt, has become another mentor. "I have a bad day when she's disappointed in me for not doing my best," he smiles.
"I really love football," states Vita, who's considering a degree in anthropology after an inspiring study-abroad trip to work with the indigenous people of Tahiti. "But the main reason I worked so hard to get here is my mom. She's worked so much for her family to be able to live a happy, normal life. I want to be able to support her so she won't have to work anymore."
Vita was a member of a small group of diverse students who took a course on indigenous research with Holly Barker, Burke Museum curator for Oceanic and Asian Culture and senior lecturer of anthropology. Each student created "Portrait of a Researcher" posters, choosing a museum location and an object within the Burke collection they felt represented their research and challenged preconceived biases about themselves as men of color and/or student-athletes. The course also included mentoring high school students.

Your impact on scholarships
By supporting student-athlete scholarships, you give young men and women the opportunity of a lifetime for a world-class UW education. Totaling nearly $13 million a year, scholarships are one of Husky Athletics' largest annual expenses. While we appreciate donations to our annual scholarship fund, The Game Changer Campaign for Husky Athletics seeks to dramatically increase scholarship endowments.