Claire Carter
‣ Four-year letterwinner from Nottingham, England, U.K.
‣ UW's only four-time All-American, she burst onto the scene as a freshman in 2001 with a 32-9 singles record. 32 wins remain the UW single-season record.
‣ Reached the NCAA singles round of 16 as a freshman to earn her first All-America honor.
‣ Played in the NCAA Doubles Championships three times with three different partners, twice reaching the quarterfinals, in 2002 with Darija Klaic, and again in 2004 with Dea Sumantri.
‣ Carter's 93 career doubles wins remain a UW record, and she finished in the top-10 in the ITA doubles rankings in 2003 and 2004.
‣ Washington has two NCAA Quarterfinal appearances in program history, and Carter was a freshman on the first team, in 2001, and a senior on the second team, in 2004. Prior to the 2001 team making the Quarterfinals, the Huskies had never gone past the first round.
‣ Finished all four seasons ranked in the top-60 in singles, and was ranked 32nd in the final poll in both 2001 and 2004.
‣ Went on to serve as an assistant coach at Washington in 2005-06, before moving to the Bay Area where she worked as a tennis pro.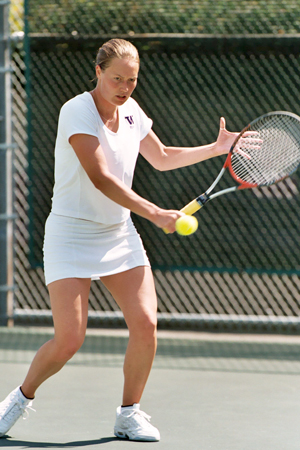 Women's Tennis
(2001-2004)