Support Men's and Women's Rowing
As COVID-19 continues to spread uncertainty among all Washington sports, Head Coaches Michael Callahan and Yasmin Farooq, along with every rower, are more grateful than ever for your generous support. Thanks to you, UW student-athletes have thrived — in competition, in the classroom and in life.
During this challenging time, with all 22 Husky teams impacted by COVID-19, your generosity means more than ever as the Athletic Department faces an unprecedented budget shortfall. We're trimming costs through salary reductions and 15-percent across-the-board budget cuts, but our ability to provide a meaningful Husky experience to Washington student-athletes — including the rowers you love — remains at risk.
Today, we are One Team.
That's why Washington Rowing is asking you to extend your support in 2020–21 to every team. Coaches Callahan and Farooq are joining the other UW head coaches to ask you to go all-in for 650 Washington student-athletes by donating to Huskies All In. Your gift will still support your favorite team while helping to ensure we can fuel the athletic and educational dreams of every student-athlete.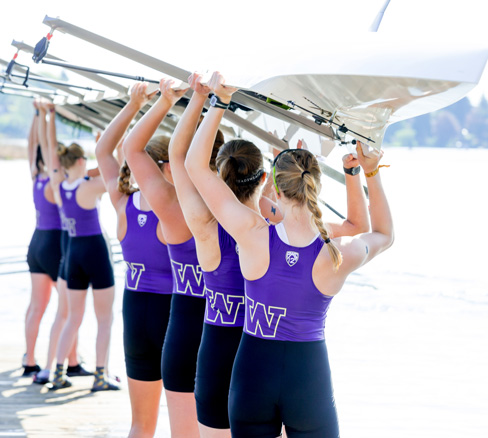 Your gift to The Huskies All In Fund is tax deductible and earns you special benefits, including:
Double priority points (2 points per $100)
Huskies All In commemorative Dawg Tag (for gifts of $100 or more)
And more!
Learn more how your gift supports Washington Rowing. Read our most recent stories.