Programs and More
Basketball's back!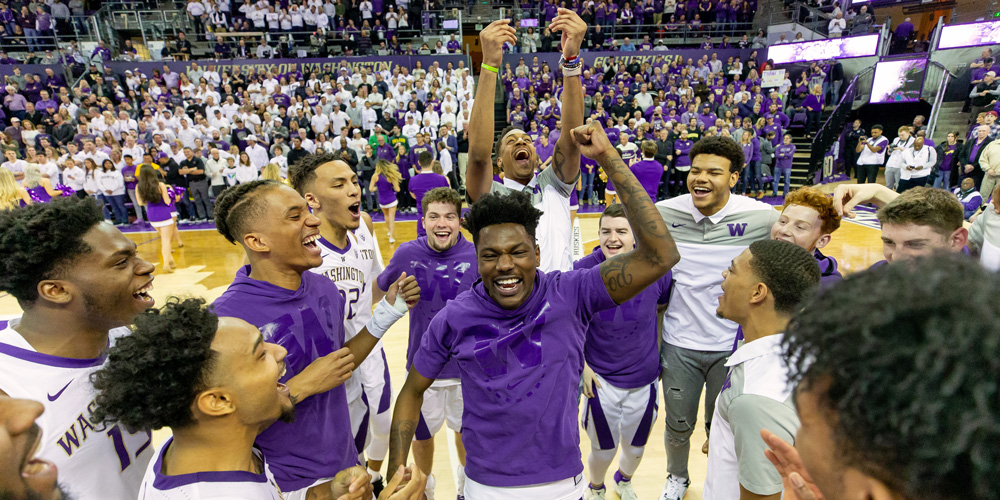 The Men's team returns to excellence with leadership from four extraordinary seniors
Leadership, trust and fan support. For Naismith Defensive Player of the Year and hometown hero Matisse Thybulle, the standout year for Men's Basketball came down to those three factors. And what a year it was!
"It was cool to see how each senior stepped into different leadership roles and how we were all able to have our own impact," says Matisse, who set the NCAA record with 126 steals for the season and the all-time Pac-12 record 330 career steals. "David (Crisp) was our outspoken leader. Dominic (Green) led by his work ethic. Noah (Dickerson) led with his consistency. I led by example."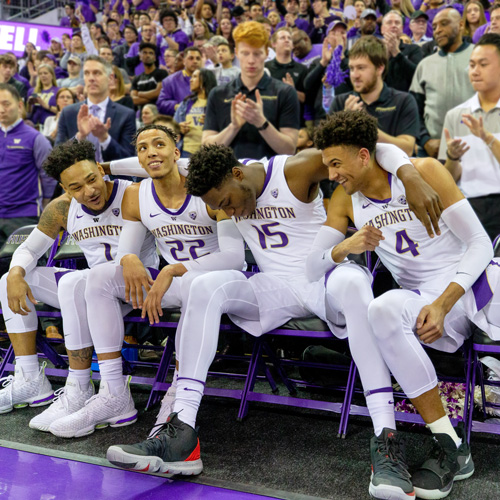 Building trust in each other also contributed to the team's success, Matisse noted. That trust was exemplified in unselfish play and resilience to bounce back after challenging losses.
"We grew together. We were a family. Our coaches emphasized trust constantly and helped us understand that no one can do it on their own," he says.
Another huge contributor to the Huskies' awesome season — the cheering hometown crowd, including Matisse's enthusiastic father, Greg, who became a favorite among fans.
"When we have the crowds screaming and raising the intensity, it's hard for any opposing team not to get rattled," explains Matisse, who completed his coursework for a degree in communications earlier this year. "It just makes everything more fun for everyone. And, it was great to have my dad in the stands. He's the happiest person I know, and his energy is contagious."
Growing up in Lynnwood and playing for Eastside Catholic High School, Matisse says he always dreamed of becoming a Husky and longed to "help bring this program back to where it deserves to be, to bring the pride back home." He credits Tyee Club donors with providing "everything we could ever need to be successful."
"I find it hard to put into words how grateful I am for everything I've been able to experience the last four years. The donors had a huge hand in that. I've been honored to represent the University of Washington."
A Record-Breaking Year!

A Pac-12 regular season championship — the first in six years.
First trip to the NCAA Tournament in eight years, making it to the round of 32.
A 27-9 season — the best record since 2004–2005.
Pac-12 honors for Jaylen Nowell as Player of the Year, Matisse Thybulle as Defensive Player of the Year and Mike Hopkins as Coach of the Year.
Matisse Thybulle named Naismith Defensive Player of the Year.