Programs and More
Best of the best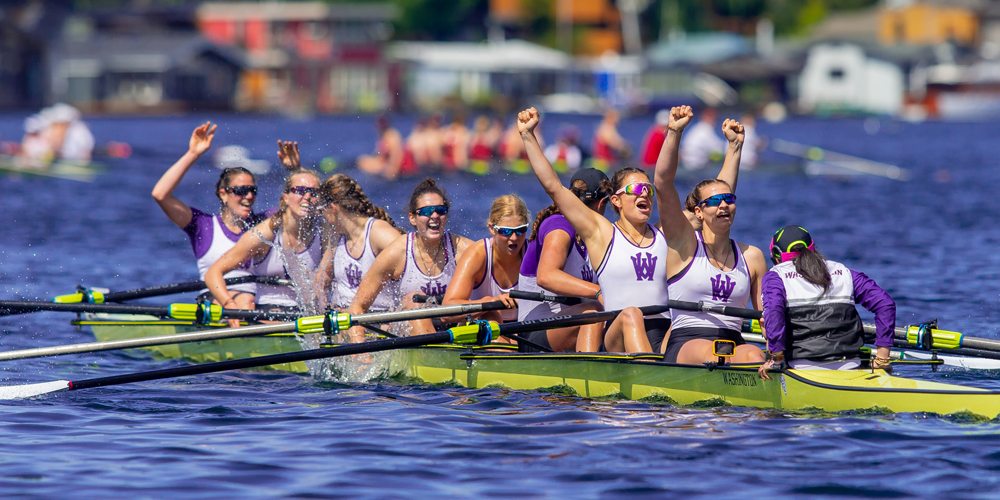 Women's Rowing sweeps the NCAA championships and earns national honors for the coaching team
In a word: Wow!
After falling into last place midway through the varsity eights grand final at the NCAA Rowing Championships, the Huskies soared back to win the title.
In a clean sweep, Washington also won the second varsity eight and the varsity fours. In the 23 years of the event, the Huskies are the only team to sweep all three races — and they've done
it twice, the first time in 2017.
It should have come to no one's surprise that the Collegiate Rowing Coaches Association soon after bestowed Coach of the Year honors on Head Coach Yasmin Farooq. Earning Coaching Staff of the Year honors were assistant coaches Josh Gautreau, Maggie Phillips and Julia Paulsen; volunteer coach Mary Whipple Murray; strength and conditioning coach Gabriela Quiggle; and student coach Meagan Smith.
Coach Farooq and Men's Rowing Head Coach Michael Callahan both were named Pac-12 Coach of the Year for the third year in a row. It was Coach Callahan's tenth annual coaching honor in his 12 seasons leading the program.
All-Pac-12 honors went to senior Marlee Blue and junior Tabea Schendekehl on the Women's team and to Men's seniors Ben Davison (also named Pac-12 Men's Athlete of the Year), Chris Carlson, Andrew Gaard and Madison Molitor.