A resilient Lexi Griggsby uses basketball as a launching pad to improve lives
It takes grit to be a college basketball player. And Lexi Griggsby has it in abundance.
Fifty-two seconds into the seventh game of 2021-22, the graduate student sustained a season-ending knee injury. It could've been a sad end to a UW career that started out with big challenges, endured many disappointments and rebounded with fresh hope in a new coach.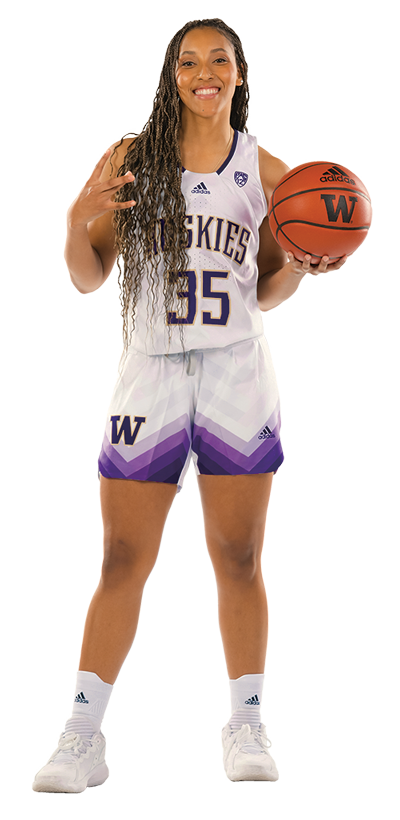 Fortunately — for the team and for us all — her early-season injury gives her the opportunity to come back for a sixth season, continuing her awesome three-pointers and advancing her goals as a legal advocate for equity and change.
Lexi grew up as the youngest of four siblings in a basketball family that bonded through the game. She was a standout star at a state championship high school in California.
"My parents encouraged me to choose a college for the academics, a school where I could be happy if basketball were to end," recalls Lexi. "They didn't care if I got a scholarship or walked on, they just wanted me to get a great education."
She found it all at Washington — the scholarship and a bachelor's degree in American Ethnic Studies with a minor in Diversity, Law and Society. After admittedly struggling with stress, another injury and her rigorous classes her freshman year, she made it to the Dean's List and discovered her identity outside of sport.
"I learned that we can put so much focus on our sport that we don't know what else interests us," she explains. "I realized that I could help change our university for the better by working with the Black Student-Athlete Association, creating a space for us to come together as a community."
She is now earning a Master's of Jurisprudence, which allows her to analyze laws and offer legal advice without sitting for the Bar.
"I believe that if we know the laws and the knowledge behind them, it's harder for people to take advantage of the rights we have," she explains. "My dream job would be to work with a nonprofit organization and teach young people to safely advocate for change while maintaining their rights. Or work within a university or a company to implement equity."