Student-Athletes
Huskies soar in class and competition — thanks to your support!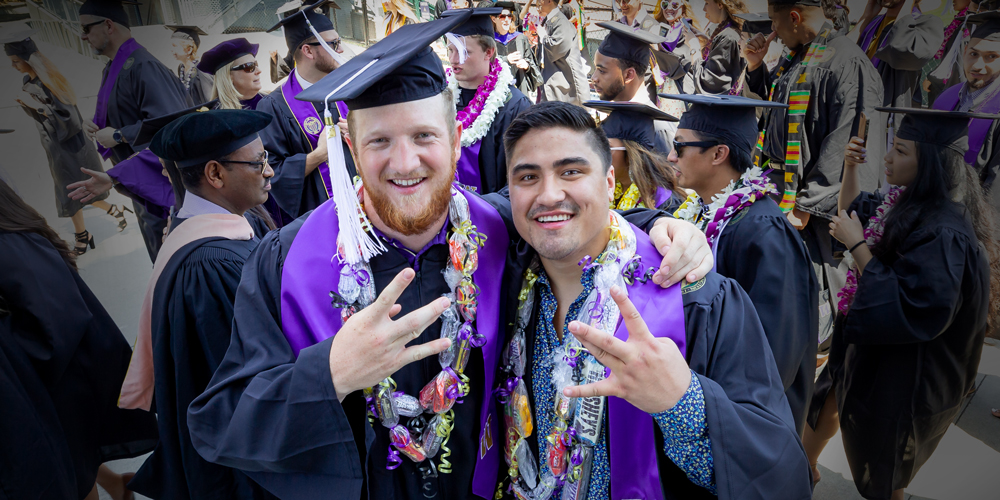 3.17 GPA
Our 650 student-athletes averaged a 3.17 GPA in the most recent academic quarter.
4th in the nation
UW Football led every Pac-12 school and ranked 4th in the nation on academic eligibility and retention toward graduation.
9,396
A record 9,396 individuals made charitable donations to Husky Athletics during 2018–19 — thank you!
Pac-12
Men's Basketball earned its first Pac-12 title in six years and returned to the NCAA tournament for the first time in eight years.
Husky Softball
Husky Softball clinched a spot in the Women's College World Series for the third year in a row.
Rose Bowl Return
UW Football won the Pac-12 championship and returned to the Rose Bowl for the 15th time in school history.
Rowing champs
Women's Rowing swept the NCAA national championships and won its third consecutive Pac-12 crown. Men's Rowing earned its 39th Conference title.
21-5
Women's Tennis finished the season with a 21-5 overall record, winning at least 21 matches for just the fifth time in program history.
Draft Picks
A remarkable eight Huskies heard their names called in this year's NFL draft, while two members of the men's basketball team were selected in the NBA draft in June. In addition, six Huskies were taken in the MLB draft.