George and Marlene Zoffel spurred on future generations of energized donors and supporters.
This charming love story began when George Zoffel and Marlene Jackson became high school sweethearts at West Seattle High School in the 1950s. From there they both attended the University of Washington, beginning a remarkable legacy of Husky pride and selfless giving now reaching into its fourth generation.
George and Marlene's devotion to the UW was so great that all five of their daughters also attended. Two of the daughters, Marnelle and Monica, state that "UW became part of our lifestyle. There's a lot of tradition in our family; we firmly embrace the values our parents chose before us."
After graduation, George started a successful company that eventually expanded across the country. While living in California, the Zoffel's Husky pride continued to burn brightly; they often flew back to Washington to cheer their beloved team on. The entire Zoffel clan is dedicated to supporting UW Athletics. It was important to George and Marlene to give back to the university they loved. They established an endowment in 2005 to support Husky Football, and the family has donated over $1 million to the athletic department and became part of the Tyee Club Champion Circle this year.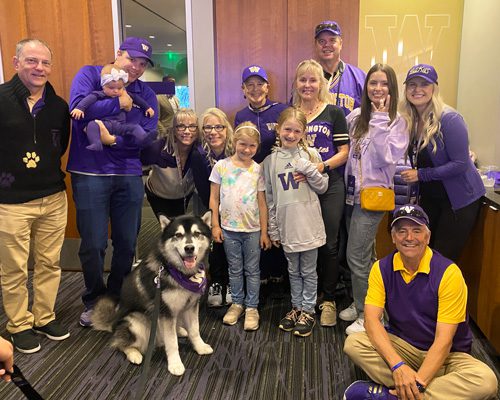 "There's a lot of loyalty to the alma mater that began with our parents and there's a continuation of that with our kids — a love for the university and everything it stands for. It's made our lives so much fuller," shares Monica.
The current recipient of the Football endowment is Asa Turner, a senior safety who coincidentally attended the same California high school as the Zoffel daughters. The family is committed to the success of the student-athlete their endowment supports and has taken the time to get to know Asa personally by attending practices and inviting him to family events.
"Asa is a great guy, we feel so blessed as a family to provide our support," says Marnelle. "It's so rewarding to be a part of their lives. The unique aspect of the Football endowment is that you get to follow the student through the years."
Although George passed away in 2021 and Marlene is unable to attend, the Zoffels still enjoy getting together for Husky Football games. They set up an elaborate tailgate and watch the game or unite around the TV to cheer the Huskies on at home.
"The Zoffel tailgate is known as the gathering place, which is a big deal on game day," Monica explains. "Regardless of where the family is, the spirit of Husky Football has always brought us back together."
George and Marlene have 16 grandchildren and 12 great-grandchildren. According to Marnelle, "Seven of the 16 grandchildren are proud graduates of UW." This makes three generations to wear purple and gold — an impressive legacy to behold.
The Impact of Endowments

When you contribute to an endowed scholarship, you provide our student-athletes with the opportunity for a world-class education at the University of Washington. In addition to scholarships, endowments can also support program and coaching expenses that positively impact student-athletes.

24.3 Percent of student-athlete scholarships are covered by endowments.

Total number of vested athletic endowments: 248

Our donors establish an average of 8 new endowments every year.