Programs and More
The science of sports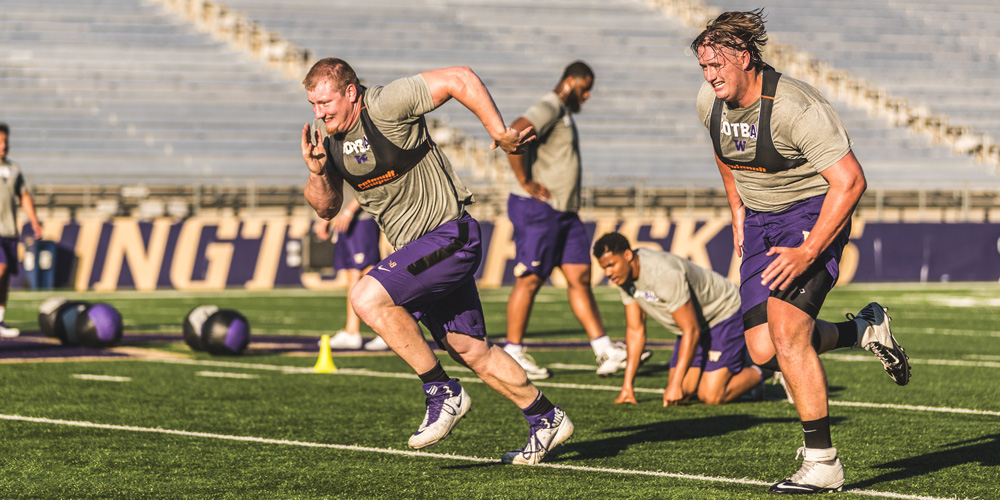 From a space-age treadmill to wired boxer shorts, technological advances support top performance
In a corner of the cavernous gym where Husky football players train and condition stands an odd-looking treadmill draped with what looks like a bulky sleeping bag. Designed by NASA to help astronauts prepare for spacewalks, it's just one example of leading-edge technology — funded by Tyee Club donors — that helps coaches and trainers analyze and optimize performance.
"Our goal is to reduce the risk of injuries by building up robust athletes and helping them operate at peak performance," explains Kyle Sammons, Coordinator of Sports Science for Football. "It used to be pen and paper, people taking subjective measures. Now, technology enables us to gather objective data that analyzes how hard the guys are working and then to individualize their training or recovery."
That NASA treadmill? It alters gravity to unload the force that student-athletes put on a recovering ACL, ankle or hip injury, helping them heal gradually and safely.
Another tool called Athos is like "fancy boxer shorts," Kyle says. Sensors on the glutes, hamstrings and quads measure muscle output and contribute to injury recovery.
"It tells us what is happening internally to power the student-athlete's body," he explains. "We can evaluate what's going on, peeling back layers to determine what's happening and then address those issues."
Catapult technology also helps student-athletes train safely. They wear the GPS-based tracking device, developed for Olympic athletes, while they are training in order to send real-time data back to Kyle's computer dashboard.
"It tells us how far they run, how fast, how many explosive movements, how much they're accelerating and decelerating, going right-left left-right, how much we're loading the body," Kyle explains. "Then, we relay that info to the coaches so they can be sure not to overload the athletes."
A college wide-receiver, Kyle began his career as a strength coach before becoming one of the Pac-12 Conference's first dedicated sports science coordinators.
"Here at UW, we pride our- selves on being ahead of the curve. We saw where the field was going with technology and my position morphed into what it is now," says Kyle.
"We have the best of the best here and it's all because the donors care so much," he concludes. "We're very grateful for all we have."