Paying it forward benefits student-athletes and the former Husky swimmer who mentors them
If you're one of the fortunate Washington student-athletes who earn an internship in Cat Clark's law office, you learn about a lot more than the law. Persistence. Strategic thinking. Current affairs. Social skills. Leadership. And how to be a Husky who gives back.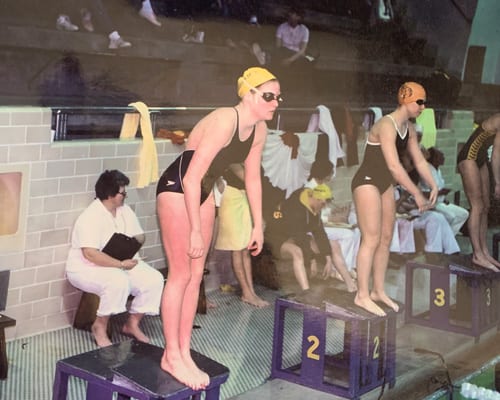 Cat was a scholarship swimmer at the UW in the 1980s, earning a degree in history and political science before going to law school at Gonzaga.
"Going to the University of Washington was the root decision of my life. From that, so many opportunities have bloomed," says Cat, a member of the Big W Club for student-athlete letter winners. "I consider it a real privilege to give back. This is who we are at Washington."
Husky Football alumni including Will Dissly (now with the Seattle Seahawks), Trey Adams (Buffalo Bills), Nick Harris (Cleveland Browns) and John Turner (studying at Tulane Law School) all secured paid summer internships with Cat. For 20 hours a week, her student-athlete interns conduct legal research, analyze contracts and accompany Cat to court. They also read and discuss books like Sun Tzu's The Art of War and Malcolm Gladwell's Outliers.
"I could tell she cared so much about all the interns before me," says Husky tight end and fifth-year senior Cade Otton.
"She really invested in getting to know me, developing skills like being involved in the news of the day, updating Excel sheets, learning the law. She taught me to look at things beyond the surface, to delve deeper into relationships with my teammates, and understanding how to apply what I learn to my life."
As much as her interns learn from her, Cat says she benefits, too.
"It's a two-way street. Being around these bright, accomplished young people keeps me young," she explains. "It provides me with an ongoing Husky Athlete experience. I'm still part of this community."
Cat's key lesson learned from her interns and mentees? "Don't discount young people. They are smart, committed, and not the stereotypes you think they might be. They have plenty to share and teach us."