Donors and Difference-Makers
Well rowed, Blake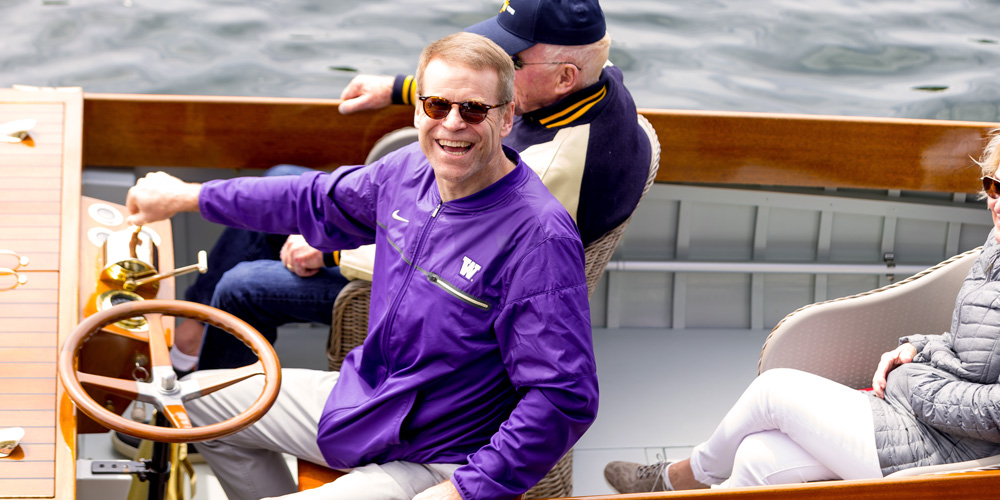 Remembering a true champion of Husky Athletics
Family and friends gathered in January to remember Husky Rower and committed supporter Blake Nordstrom at Alaska Airlines Arena, a stone's throw from the water, boats and shellhouse he loved so much.
Men's Rowing Head Coach Michael Callahan was among those at the service who memorialized Blake, who graduated in 1982 and whose family had deep roots in Husky Crew. His maternal grandfather, Willard Wakeman, and his father's cousin, John N. Nordstrom, both rowed for the Huskies in the 1950s.
"Blake taught me about people and management and brought me passion and a viewpoint no one else had," Michael said of Blake, who passed away in January of lymphoma. "He also highly valued rowing and his teammates and our current student-athletes and the spirit we have here at the University of Washington. Thank you, Blake. Well rowed."
The Nordstrom co-president also was lauded by teammate Eric Cohen, who proclaimed Washington Rowing "a brotherhood steeped in tradition."
"Blake's impact on the program here at Washington was as big as any and will be felt for generations to come," said Eric.
Make a gift in memory of Blake Nordstrom. Read more about the impact of Blake Nordstrom