Alumni
Women in sports, then and now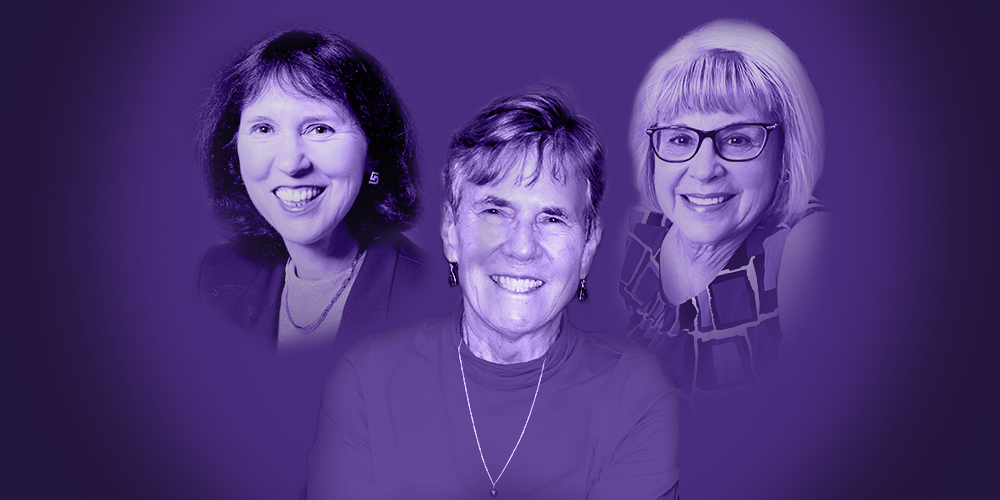 A conversation with three Husky Hall of Famers whose legacy and impact endure today
Trish Bostrom, a Seattle attorney and the first woman to be inducted into the Husky Hall of Fame, graduated in 1972 and went on to play professional tennis for eight years, ranking fifth in the world in doubles (besting Billie Jean King in doubles at Wimbledon) and 30th in singles.
A rower in the early 70s, Jan Harville head-coached Washington Women's Rowing to three national championships (the first UW woman coach to ever win a national title), earning nine Pac-12 Coach of the Year titles; she competed in the Olympics and is a member of the National Rowing Hall of Fame.
USA Gymnastics Hall of Famer Joyce Tanac Shroeder, who became a pharmacist after graduating in 1974, is Washington's most decorated gymnast; she won the all-around title and all four individual titles at the U.S. National Championships and also competed in the Olympics.
The three women recently met over Zoom to share their perspectives on women and sports.
What was it like to be female student-athletes at Washington in the years before Title IX?
Joyce: I was very fortunate to get an academic scholarship at a time when there were no athletic scholarships for women — I think tuition was $133 a quarter back then! We worked out in the same gym as the men, but when we traveled to meets we had to drive our own cars. We flew standby to save money when we went to nationals.
Jan: I signed up for rowing after seeing a sign that said No Experience Necessary. That sounded like me! There was no financial support from the Athletic Department. We went to Penney's to buy our T-shirts and did bake sales and car washes to pay for gas to drive to local meets. The men had Conibear Shellhouse; we changed clothes before class in a port-a-potty near the old canoe house.
We didn't really start getting scholarships in Women's Rowing until 1997.
Trish: There were huge discrepancies. We had no scholarships, no uniforms and had to buy our own rackets and balls. The men traveled to meets and slept in hotels. We brought sleeping bags and stayed with players' friends and family members. I wanted the right to try out for men's team until there was equity. An attorney friend of my father's took my case for free and we threatened to file an injunction to prohibit NCAA competition in all sports (including football!). Two weeks after that hearing, I played with the men and the UW agreed to work toward more equitable funding. Title IX passed shortly after that, opening the doors not just to athletics but for things like medical schools and law schools and engineering classes, which had been closed or open to a small quota for women.
Joyce: I didn't realize that!
Jan: And a lot of members of Congress knew it was for education but didn't realize it would affect sports.
Trish: That's true. There have been constant and consistent attacks since the beginning to try to eliminate Title IX.
The late 60s and early 70s were a pivotal time for America, an era when women were really becoming activists for equity. What is your sense of the role that sports played in advancing gender equity during those days?
Jan: Title IX opened up so many opportunities for women. It helped us become much more independent, confident and skillful. Men had that advantage for so many years. Now, women were able to compete and grow.
Joyce: Opportunity. That's the big difference. We had the opportunity to do things in sports that only men had access to before.
Trish: That's right. Sports teach leadership skills, discipline, how to win and lose, how to work in a group. Male leaders had developed from athletic training for years. Suddenly, thanks to Title IX, women could develop those skills and dramatically affect society for the positive.
How did your time as student-athletes prepare you for careers that had typically been dominated by men?
Joyce: Three big things: Time management, discipline and understanding that if you work hard at whatever you want, you can achieve it.
Trish: During our era, we didn't have mentors to guide us. We learned on our own to be disciplined, to set high goals and figure out how to reach them.
Jan: We had to fight for a lot of things as women student-athletes back then, and many of us became successful in our careers because we had to struggle and find our own ways to solve problems.
What's left to be done at all levels of women in sports?
Trish: Title IX is not secure. Young athletes need to be consistent in upholding Title IX. Things are much better now, but the NCAA and all athletic departments must keep working very hard on creating an equitable environment in which male athletes and female athletes are treated equally.
Joyce: Money is still an issue, especially because the revenue from men's sports remains much higher. There's still a lot that can be done.
Jan: Be vigilant in sustaining progress into the future. There's still not equity, from elementary school to college to professional athletics for women. The boys still tend to get the best of everything. But a lot is changing from year to year. The UW has led the way in providing an equitable experience for women. We take a lot of pride in Washington for that.