Jon Brockman
‣ Four-year starter from Snohomish, Wash., where he was a Mc-Donald's All-American at Snohomish High School.
‣ Still holds the Washington single-season (391) and career (1,283) rebounds records. Career total ranks No. 4 in Pac-12 Conference history, while his 724 boards in conference play are most ever.
‣ 1,805 career points are fourth-most in Washington history. Had 96 career double-digit scoring games, second most in school history.
‣ Led the Pac-10 Conference in rebounds three seasons in a row (2007-2009). Led the UW in rebounding and field-goal percentage for four seasons in a row, and also led Huskies in scoring in 2007-08.
‣ First-team all-conference selection in 2007 and 2009, and a sec-ond-team selection in 2008. Also named first-team Pac-10 All-Fresh-man in 2005-06.
‣ Won the Tom Hansen Pac-10 Medal as the UW's top senior, male student-athlete for the 2008-09 year. Also three-time team MVP and four-time winner of the basketball team's 101 Club Scholar-Athlete Award.
‣ Three-time team captain who helped lead Washington to the NCAA Sweet 16 as a freshman and to the second round of the NCAA Tournament as a senior in 2009.
‣ Selected by the Portland TrailBlazers in the second round (38th overall) of the 2009 NBA Draft.
‣ Played for the Sacramento Kings and the Milwaukee Bucks for a total of three seasons before playing professionally in France and Germany.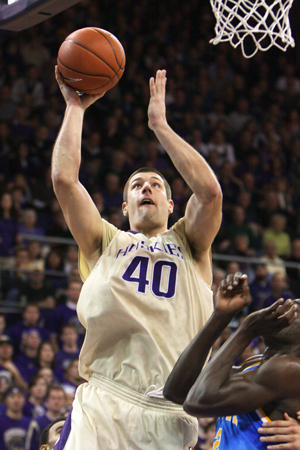 Men's Basketball
(2005–2009)