Support Husky Marching Band
Join the Tequila Club to show your passion and support for the Husky Marching Band. Your gift provides us with the resources we need to recruit the most talented musicians, and to ensure they have everything they need to drum up spirit among Husky fans and our community. When you donate, you become an instrumental member of this nationally-recognized program supporting over 240 band members. All gifts are tax deductible and qualify you for Tyee Club annual member benefits!
Please join other band alumni and friends of band and cheer by making a gift at one of the levels below:
Gold – $10 per month ($120 one-time)
Purple – $20 per month ($240 one-time)
Vict'ry for Washington – $50 per month ($600 one-time)
Bow Down to Washington – $100 per month ($2,400 one-time)
Tequila! – $500 per month ($6,000 one-time)
Or surprise us with a gift of your choice!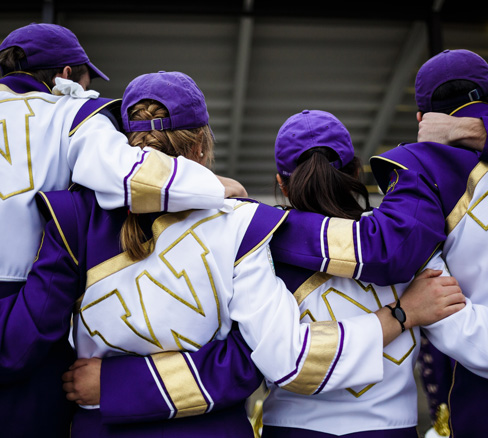 Did you know?
– The cost of one uniform is $575.
– The average GPA of a Husky Band member is a 3.3.
– The smallest instrument in the band, the piccolo, costs more than $1,200.
– The largest instrument in the band, the sousaphone (aka "tuba"), costs more than $6,000.
– Each member will march over 36 miles each football season.