Donors and Difference-Makers
70 years of season tickets — and counting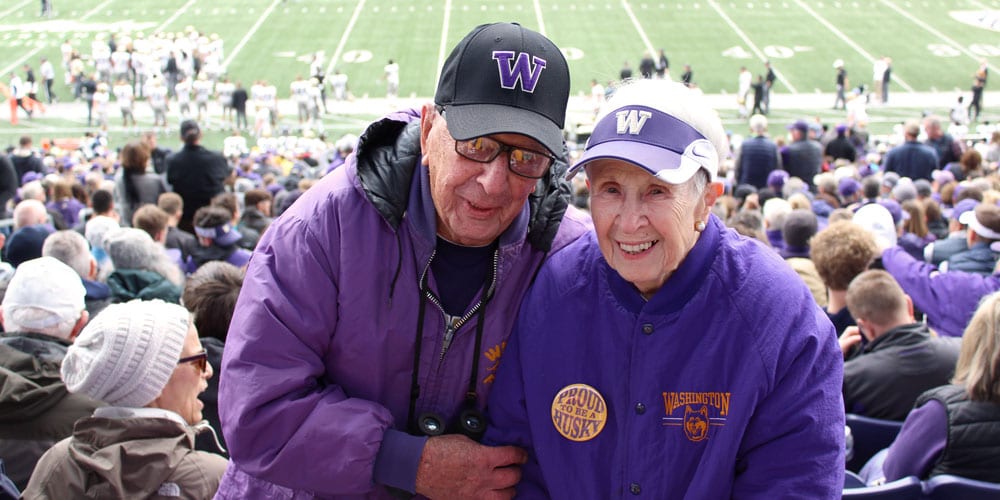 George and Alice Zaikowski love their Huskies, and prove it by being loyal fans and donors
Back in the 1930s, George Zaikowski and his buddies would head to downtown Centralia on Saturday afternoons to listen to Husky football games on the radio. He still remembers the 1937 Rose Bowl, when Pittsburgh won a 21-0 shutout against Washington.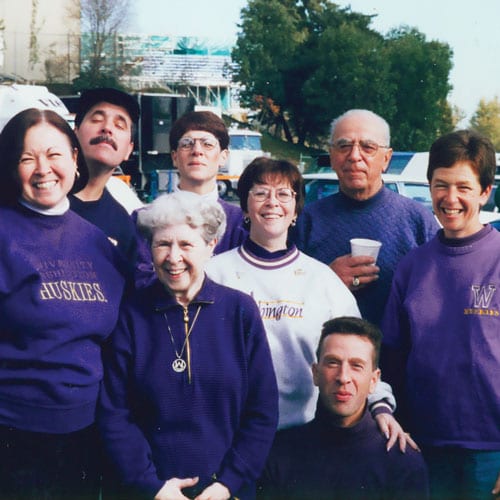 "In those days, it was the Depression. A lot of people couldn't afford radios and my family was one of them. The Sears and Roebuck store would set up a radio outside and we'd all go out and sit and listen," George reminisces.
"George took me to my first game, Washington and WSU, in 1942 right before he left for the war," recalls his wife of 75 years, Alice. "We beat them. It was my first introduction to Husky football and it was wonderful."
After he returned from serving overseas, George purchased their first season tickets in 1948 and has owned and added to them ever since. Now in their mid-90s, the couple continues the tradition by driving from Centralia with family members and friends for happy tailgates and thrilling games.
Through the decades, their four daughters, two sons, grandkids and great grandkids formed allegiances to the Huskies, further cementing the Zaikowskis' UW bonds.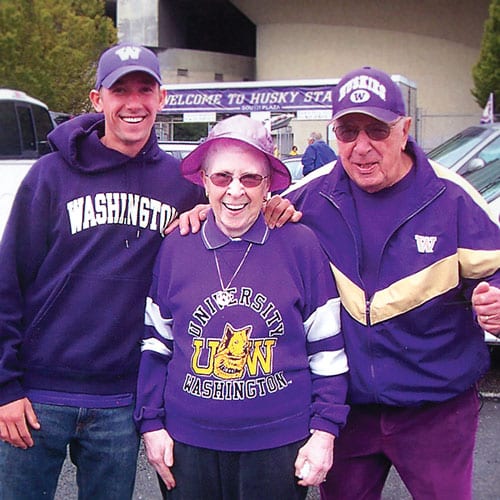 "It's a family tradition, such a big part of our lives," says Alice.
The couple made their first donation after Head Coach Jim Owens visited Chehalis in the late 1950s to meet with fans and drum up support ("even though the meeting was for men only," Alice points out). The Zaikowskis owned the iconic Kit Carson Restaurant on Interstate 5, and as it grew more successful, George and Alice shared their good fortune with the Huskies. They established a scholarship endowment and also support Softball, Basketball and other sports.
"It's brought us such joy," says Alice. "Football started it all, but if the Huskies had a ping-pong team we'd probably follow that, too. We love the Huskies through thick and thin."
Did you know?

The seat-related gift tied to your season tickets provides critical support to all our athletic teams, while also earning priority points and qualifying you for annual member benefits.