Give student-athletes and the teams you love a competitive edge
A gift to The Competitive Edge Fund is the best way to ensure that Husky student-athletes have everything they need to compete, learn and grow.
Your gift makes a tremendous impact by providing:
EDUCATION: Scholarships and support to guide student-athletes toward academic excellence and graduation.
WELLNESS: Physical and mental health services, meals and nutrition counseling to keep them healthy.
INSPIRATION: Dedicated coaches and staff who know how to motivate young people and build winning teams.
INNOVATION: The latest sports technology and training breakthroughs to maximize performance.
OPPORTUNITY: Life skills, leadership training, mentors, internships and volunteer experiences to holistically develop student-athletes.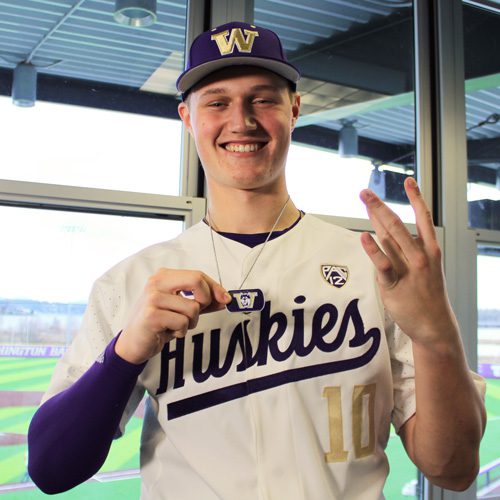 To honor the adoption of the Husky as UW's official mascot 100 years ago, we are celebrating gifts of $100 or more to The Competitive Edge Fund with special throwback Dawg Tags. Dawg Tags represent your commitment and connection to our student-athletes — Husky student-athletes receive Dawg Tags for their academic excellence. Wear yours with purple and gold pride and share your photos using #GiveTheEdge!
Only gifts to The Competitive Edge Fund earn 1.5 priority points for every $100 you donate, with gifts of $100,000 or more earning 2 priority points per $100. All gifts are tax deductible and qualify you for Tyee Club annual member benefits!