How a Cold War spy, his 'chocolate shoe' bride and countless UW moments created a legacy
There are so many wonderful memories.
As high school sweethearts, Mary Koss and Bill Branom sat on the front porch of her Wallingford home, listening to Washington Football games on the radio while cheers from Husky Stadium echoed in the distance.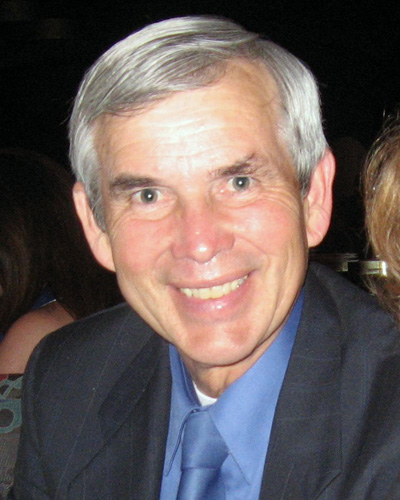 Later, at the UW, there was the post-game date to Burgermaster, where a milkshake spilled onto Mary's already chilly feet — forever christening the restaurant "the chocolate shoe place" in their lifetime of remembrances.
The births of their four children created a whole family of devoted Husky fans (even the two kids who went to Stanford!).
Oh, and there were also Bill's adventures as a Cold War spy in Germany — putting to good use his UW bachelor's and master's degrees in Germanics (also Mary's major). When the couple returned to Seattle, Bill pursued his Ph.D. at the UW and became a successful businessman, teacher and volunteer. One of his passions was tutoring Husky student-athletes.
Their memorable life together ended with Bill's passing in 2010. Soon after, Mary decided to create new memories with one goal in mind: to honor the precious memory of her husband.
Her first step was to join the Peace Corps, spending 2011 to 2013 teaching English in the former Soviet Union nation of Azerbaijan.
"Bill had initially intended to use his multiple degrees from UW to go into overseas foreign service with the State Department," Mary explains. "That never happened. But in some way, my service in the Peace Corps seemed to me to help fulfill that dream on his behalf."
Next, she chose to forever memorialize Bill by supporting the education of student-athletes. She established the William W. (Bill) and Mary Branom Fund for Student Academic Support and Success "to help them do wonderful things with their lives, to become the new scientists and new leaders for future generations."
"Part of the enticement was that it would live in perpetuity. It wasn't a one-time donation but something that would always be there to grow, for me to invest in, and for my children, friends and family to support," says Mary.
One more act of generosity would honor Bill in two ways: supporting Husky Athletics while helping to care for his beloved wife until the end of her days. Mary set up a charitable gift annuity, which pays her a fixed income for life.
"As a retired person with limited reliable income, this was a way to offer myself some ongoing financial security and at the same time make a charitable contribution to something that is important to me," she notes. "It's a win-win."
Bill's been gone for more than a decade now. Still, the memories he helped to create live on in Mary, her children and grandchildren, and the University of Washington.
"To do things in another's memory helps keep their spirit alive, and he certainly would be pleased to be helping UW in any way possible," Mary concludes.

Charitable Gift Annuities:
Income for you, support for the Huskies

Washington fans who own stocks and bonds, or certain other assets can secure a lifetime of guaranteed income by establishing a charitable gift annuity.

The concept is simple. You agree to donate your asset(s) to Husky Athletics. In exchange, the UW provides you with a fixed annual payout for life. In addition, you'll get an immediate charitable income tax deduction. You may receive other tax benefits as well; consult your tax professional for detailed information.

When you pass away, the remaining principal of your initial gift supports the Athletic Department or specific programs you're passionate about — like Mary's support for student-athlete academic services.

To learn more, contact the Tyee Office at 206.543.2234 or tyeeclub@uw.edu.