Donors and Difference-Makers
Aboard The Big Dawg, supporting the Huskies is smooth sailing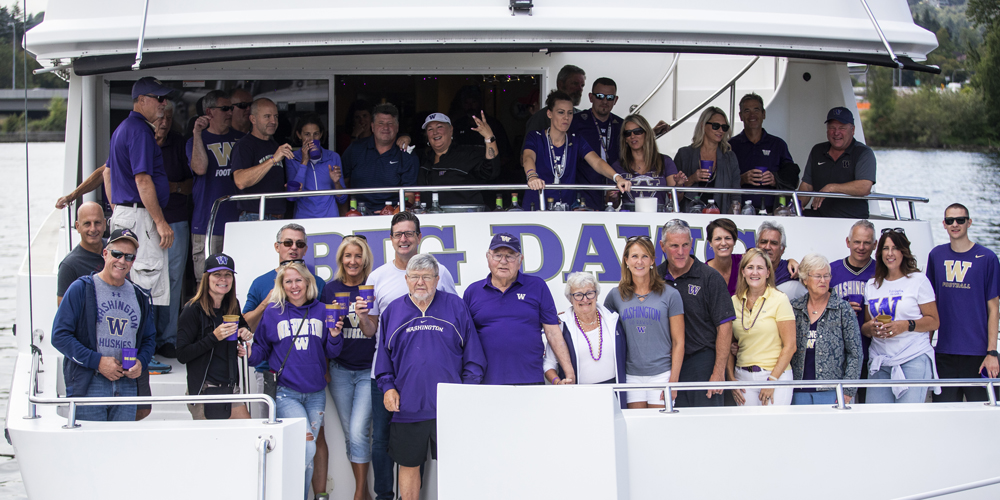 Aboard The Big Dawg, supporting the Huskies is smooth sailing Frank Miles narrowly escaped becoming a Coug.
"I went to WSU for one year and then I ran out of money," he recalls. "I came back to Seattle to get a job and wound up going to Washington."
Thank goodness, sighs Jean, his wife of 58 years and as rabid a Husky fan as they come. Her father started taking her to Husky football and basketball games when she was just 8 years old.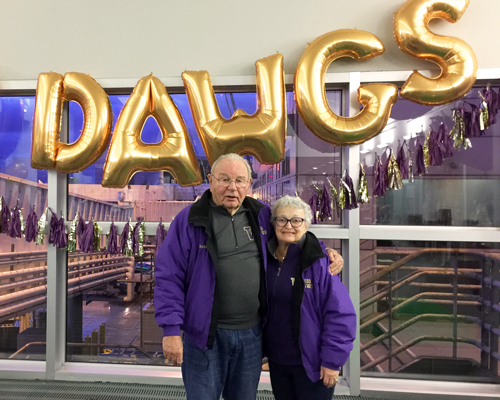 Good thing for UW Athletics, too. Frank and Jean have become two of the Tyee Club's most generous donors and most recognizable fans. Their 94-foot, three-story yacht, The Big Dawg, motors into Husky Harbor on Lake Washington for every home football game with as many as 75 people aboard.
"It's fellowship with other fans and more fun than you can imagine," laughs Frank.
The couple met at a street dance in Auburn, where they both grew up. While Frank was earning a degree in civil engineering at Washington, Jean received a scholarship to what is now Western Washington University and became a teacher.
When his father passed away, Frank went to work at the family's six-employee Miles Sand & Gravel. Today, son Walt and daughter Lisa oversee 900 employees at the Puyallup business while their parents enjoy their nine grandkids and spend half the year in Alaska.
Jean says the couple's decision to endow a scholarship for UW Football represents an investment in the future of student-athletes.
"We're very fortunate and it's a blessing to be able to pass it on," she explains. "These kids work so hard and many of them wouldn't be able to come to Washington without a scholarship. We are helping provide an opportunity and a good future for them, letting them know that someone cares about them and wants to support their endeavors."
Establish a scholarship

Scholarship endowments are a lasting way to invest in the future of student-athletes. Contact the Tyee Club at 206.543.2234 or tyeeclub@uw.edu to learn more.