Your support helps us hire the nation's best coaches. Meet our newest Huskies who are ready to lead Baseball and Men's Tennis to the top.
Jason Kelly
Baseball Head Coach
Jason Kelly has built his career around the development of elite pitchers. After several seasons with ASU and LSU and an earlier tenure as pitching coach for UW, he returns to Washington as Head Coach. During his earlier time with Husky Baseball, Jason was named D1Baseball.com's National Assistant Coach of the Year, and the team made it to the College World Series for the first time in program history. We are thrilled to welcome him back!
You were the pitching coach at Washington for seven seasons, 2013-2019, your longest tenure in that role. What was the process for coming back?
The UW completely surprised me with the call asking if I would be interested in coming back as Head Baseball Coach. It was an easy decision for me. I'm so excited to return to where my children grew up and to be surrounded by the great people here. It's like coming home. It's crazy how things work out.
How would you describe your coaching philosophy?
Winning is part of it, but not all of it. I have a servant's attitude; it's always something I have abided by. The UW is such a special place, and I do everything I can to help these kids get better. I resonate with the intrinsic values of the UW. For me, the combination of athletics and academics makes it one of the finest institutions in the country.
What message do you have for your supporters? How are donors crucial to the success of the team?
I'm extremely appreciative of our donors. Everything that takes place on the field is thanks to people like you. The technological part of this game is skyrocketing in different ways. We want to raise money to put tools in the hands of our players to help them measure what they do. Donors provide us with the resources we need to keep up and help us offer the best tools for our players. Relationships are essential to me, and I hope
to have you, the donors, involved with the entire team.
Tell me about your family.
When I'm not spending time at the UW, I live in Carnation with my wife, Tracy, and our two children. Peyton is 14 and a freshman, and Cade is 13 and in 7th grade.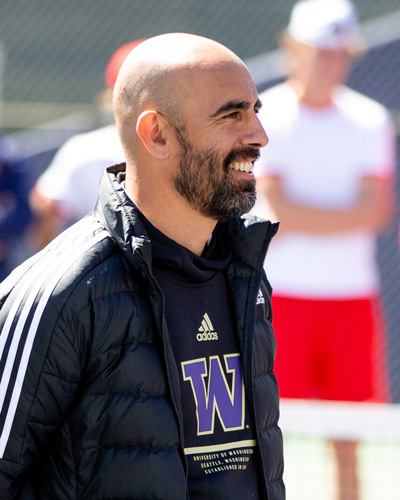 Rahim Esmail
Men's Tennis Head Coach
Rahim Esmail has 16 years of collegiate coaching under his belt, including a decade of experience as Head Coach at Samford University, where he was named Southern Conference Coach of the Year in 2021. Last season, he helped the Huskies reach the NCAA Championships for the first time since 2017 as Associate Head Coach. As the new Head Coach for Washington, he brings his experience as a standout former student-athlete and a strong set of values for a holistic approach.
As a former student-athlete, what is important for you to accomplish as the head coach?
I have a list of ideas and I look forward to putting them to fruition, but the community and growing the game in general is really important to me. It's a game that's given a lot to me, and my duty is to give back to the game and these kids as much as I can. I plan to be involved in the community as much as possible.
How does donor support make a difference?
Donor support allows us to play against the best teams in the country. We see ourselves as a program that can be right up there competing for Pac-12 Championships and National Championships. In order to have those opportunities, we have to give our kids that exposure. While our Pac-12 schedule is great and we have a lot of strong teams in our conference, we are all predominately on the West Coast. If we want to continue to give our student-athletes opportunities to compete against the best, outside of conference play, we have to travel quite a distance. Gifts from our supporters allow us to travel and play a schedule that gives our kids those opportunities.
It's not just about the gifts and money. It's the time, being a part of the community and playing such an important role in our student-athletes' growth that means the world to us. Having support from you, whether it's community support or donations, allows our student-athletes to grow and get to another level; it's all very valued. Whatever impact you have doesn't go unnoticed, and it's greatly appreciated.
What is the most rewarding part about coaching?
The rewarding part is just seeing your student-athletes grow and seeing the experiences they have. I had my time as a student-athlete and during those four years it was about me and the rest of my teammates — but it's not about me anymore. It's about the kids I work with, the University and just being a person in the community that can help grow the game and impact these young men.