Programs and More
Health Care Huskies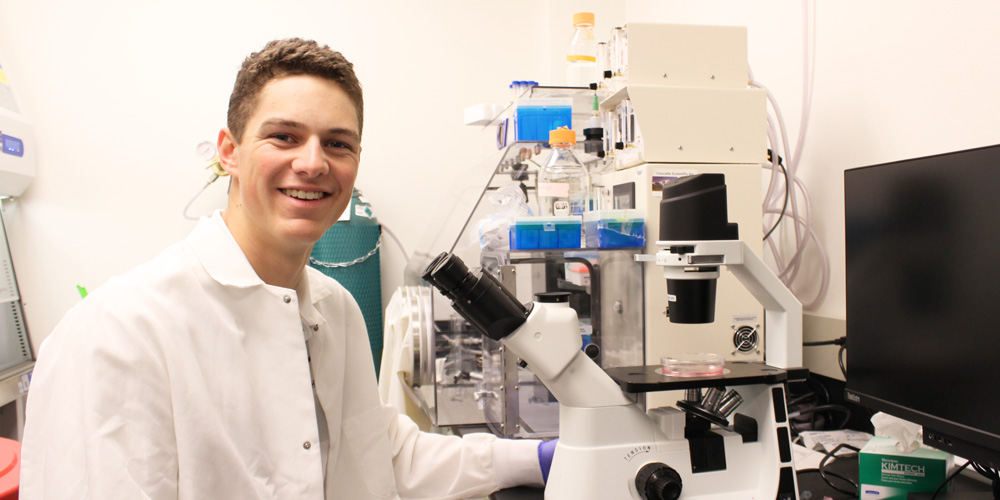 Mentorship and internship program jumpstarts student-athletes' medical careers
A botched operation on his broken leg, and the high-tech procedure to rectify it, solidified then 13-year-old Ian Engstrom's determination to become a doctor.
"I was in agonizing pain," remembers the UW Rower and 3.58 GPA biochemistry major. "After that first procedure, I had an incredible surgeon. That's when I realized the quality of doctor you are can make a dramatic change in people's lives. I want to be a very good doctor and go home every day knowing I helped someone."
Ian is fueling his goal by participating in Health Care Huskies, part of the donor-funded Boundless Futures program. Thanks to connections he's made, Ian earned a coveted spot last summer at Fred Hutch — widely considered the world's best cancer research center. He also interned at MIT and recently won a UW Levinson Emerging Scholars award to finance his research.
"Not only can you get a great education at Washington and be a member of an awesome rowing team, but you get to take part of all these amazing research experiences," he says.
Soccer player turns medical mentor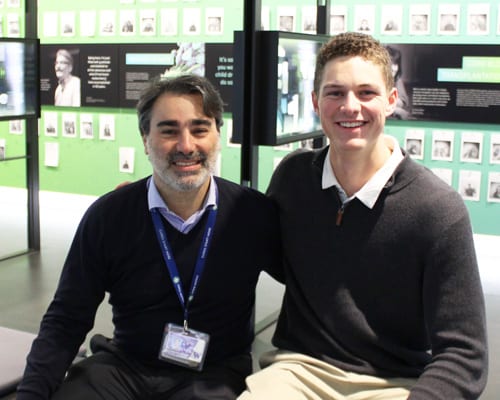 Hematologist Filippo Milano, who chose medical school over a pro soccer career as a 17-year-old in Italy, never lost his passion for the game. After he came to Seattle to focus on cord-blood transplants at Fred Hutch, he played a pick-up match with intramural athletes at the UW. That led to a connection to UW Men's Soccer and, ultimately, the Health Care Huskies program.
As a mentor who advises student-athletes on everything from what it's like to be a physician, the majors that will prepare them for health care careers, mastering medical school applications and more, Dr. Milano says "every UW student who has come to me has already learned critical skills for this profession.
"Bedside manner begins with understanding the people around you — sports prepare you for that," he explains. "Perseverance, diligence and the drive to never quit, the fire in your eyes and the will to sacrifice — this is what medical school is about.
"Another thing that is incredible about UW Athletics is that they know not every student-athlete can play professionally. They need a degree so academics and this (Health Care Huskies) program works. For me, who loves education and sports, the
UW system is beautiful."
Learning from the experiences of others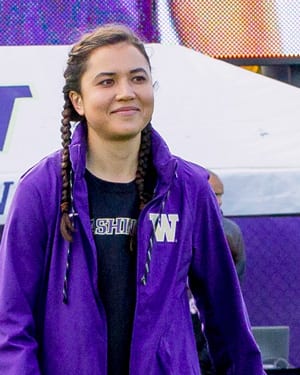 Washington Women's Soccer player Sam Kokoska, who graduated in 2019 with a degree in bioengineering and is now at Columbia University's medical school, praised the role that Health Care Huskies played in preparing her for her studies and career.
"Dr. Milano had lots of advice and I was grateful for it," Sam says. "It's good to hear from somebody in the field to learn about their path, what helped them, their regrets, what they wish they'd have known, how to be happy in med school as a work-life balanced student."
Ian met with Dr. Milano every month last year and still sees him regularly, as do Husky student-athletes from several other sports.
"We planned out the classes I should take, when to study for the MCAT, benefits and drawbacks of taking a gap year, studying abroad for a year, going directly to med school, and what would be the best plan for me," Ian says. "He also brought me into patient consults so I could see how patients deal with life and death news."
With knowledgeable and impassioned head starts like these, countless student-athletes can look forward to fulfilling health care careers.
Invest in the future of student-athletes

Make a gift to The Competitive Edge Fund to support the ongoing expenses of programs like Health Care Huskies and Boundless Futures.