Coaches and staff
Holistic care supports mental health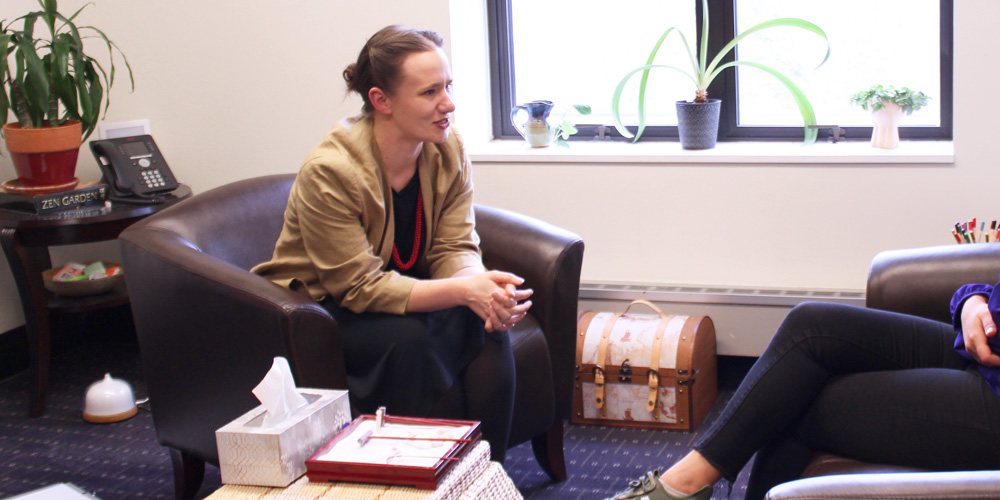 College student Claire Hipkens aspired to become a diplomat, studying abroad in far-flung locales and developing her skills as an advocate for people who struggle to live a better life.
Then, as an AmeriCorps volunteer, she set aside her diplomatic dreams when she found her calling working with first-generation college goers.
"We were doing great work to create accessible opportunities for college," recalls UW Athletics' Director of Student Wellness. "But the barrier I couldn't remove was the lack of quality, culturally-informed mental health services for these students."
So, she went back to school to become a clinical social worker. Her internship in the University of Texas Athletic Department led to the fulfillment of her new-found dream.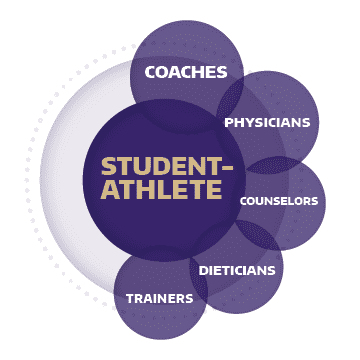 "A lot of student-athletes are first generation or underrepresented in some way. They are invested in their own care, old enough to have some agency and to make changes in their lives, and young enough to believe that anything is possible," Claire says.
When she learned that Husky Athletics wanted to develop a collaborative behavioral health model, she jumped at the chance to lead it. Unlike many Division I colleges that focus mental health counseling on resolving athletic performance issues, the UW takes a more holistic approach.
For example, Claire says, an injured student-athlete may become depressed or anxious, which in turn could trigger disordered eating. That athlete might go to several different people in UW Athletics who all have different plans to try to help.
"If everyone just has one piece of the puzzle, we're fighting each other or doing things that could be harmful," explains Claire, who sees more than half of all student-athletes during their years at Washington. "Now, we get physicians and coaches and trainers and nutritionists together to see how we can best help that student."
"UW Intercollegiate Athletics has supported my mental health tremendously through all of their available services. Being a high-level student-athlete is such an amazing experience, but it also means that I deal with a unique set of stressors on a daily basis. The mental health services available here make it possible for me and other student athletes to be the happiest and healthiest versions of ourselves throughout our collegiate careers."
Washington gymnast
This approach has built a culture of genuine investment in mental health in UW Athletics, she adds.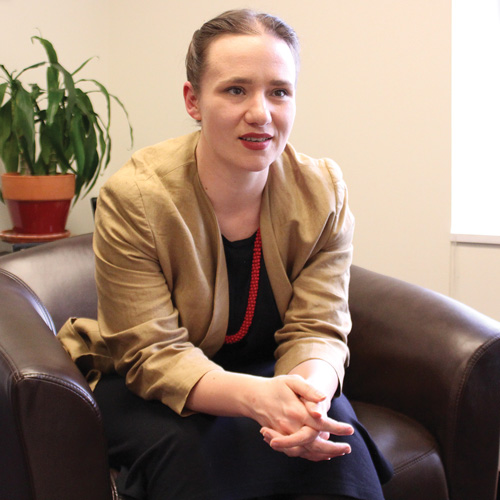 "Coaches here prioritize mental health and wellness not because it makes the students better athletes but because they really care about them as individuals," Claire says.
Every department refers student-athletes to her for counseling, and students themselves are more comfortable seeking it out for themselves. She helps them deal with grief, relationships, social anxiety and the identity issues that arise as they approach the end of their athletic careers.
"Some students are high-profile and may get thousands of social media followers overnight," Claire notes. "Strangers say mean things about them online, echoing the student's own insecurities. It's a lot of pressure."
Claire meets with every team and helps facilitate orientation to ensure student-athletes know where to turn for help. An organized group of Peer Advocates testifies to others about the benefits of counseling.
"I am so excited to be so well integrated into the department so I can connect with these extraordinary young people and everyone on staff who cares about them," Claire concludes.
Your gifts to The Competitive Edge Fund help make holistic care like this possible for student-athletes. Thank you! Learn more and make a gift.