Donors and Difference-Makers
'I believe in giving forward'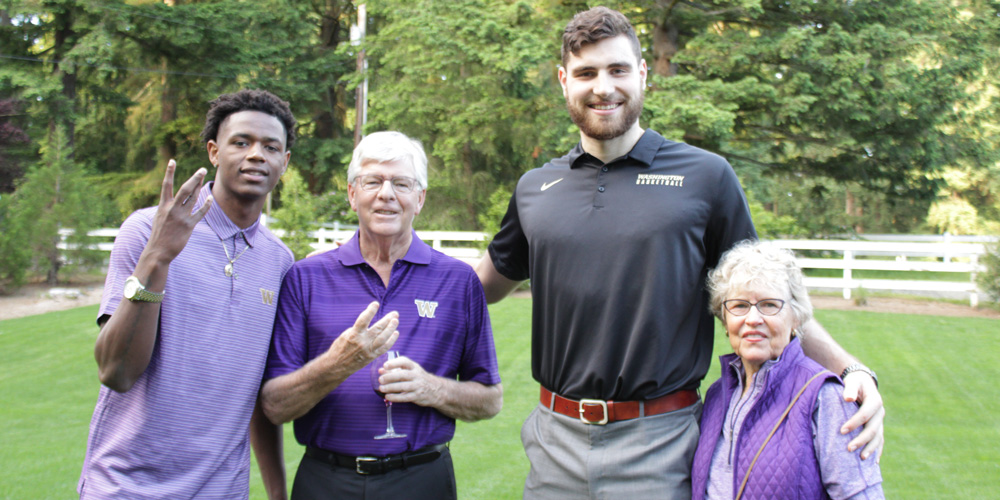 Chuck and Linda Barbo build upon their family legacy by investing in Husky Athletics
Generations of Chuck and Linda Barbo's families literally helped build and grow the state of Washington. Today, the couple's passion for education and all things purple and gold is helping to build and grow UW Athletics and the future of Husky student-athletes.
Their Scandinavian forebears' roots run deep in farming, construction and logging. Chuck grew up near UW and used to catch fish in the campus pond, years before it morphed into Dunheller Fountain. The Skagit Valley farmland where Linda was raised remains in her family.
Each have grandfathers who built famed Chuckanut Drive in Northwest Washington.
Married 56 years, they look back now and it seems their meeting at Washington was predestined.
"He sat behind me in an education class and used to follow me home," recalls Linda, a former home ec teacher.
"We went out bowling but we each had other dates," her husband chimes in. "I was impressed with her because she was a good bowler and pretty cute."
Chuck rowed at Washington, sold programs at football games and graduated with a degree in education. After a stint as a teacher, he co-founded Shurgard Storage Centers with a fellow UW student-athlete, Don Daniels.
They bought their first season tickets to Husky Football 50 years ago, driving to games from Olympia for many years with their daughters Julie, Sarah and Anne.
"I just enjoy Husky sports so much, it was easy to start to donate to support the department," Linda explains.
Generous gifts from the Barbos helped remodel Alaska Airlines Arena, Conibear crew house and Husky Stadium. They also have made significant contributions to the Foster School of Business.
"I don't like the term 'giving back'. I believe in giving forward," Chuck says. "Giving back sounds like you have an obligation. I want to make investments forward because I believe in the future of this country, this state and the University of Washington."