Alumni
Team Player
Basketball announcer Jason Hamilton remains close to the program that launched his post-grad life
Every Husky Men's Basketball fan knows his voice. A lot of them recognize his face, too, from the years he was on court instead of courtside.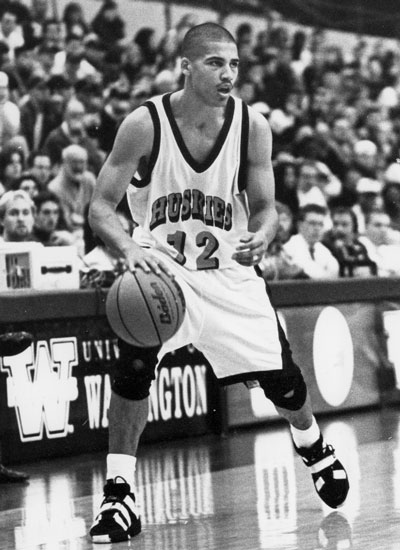 UW alum Jason Hamilton sits next to fellow radio announcer Tony Castricone, providing color commentary to augment Tony's play by play. It's been nearly 25 years since Jason concluded his playing career at Washington in record-setting territory. As an assistant coach for the Huskies from 1998 – 2000, he helped lead his alma mater to its first NCAA berth since 1986.
He's remained part of the program as a radio analyst for the past 19 years, "a fun little side job that's been really cool."
"You're sitting courtside to a game you love at a University you love. There's not a better seat in the house to hear the interaction between coaches and players for a person who loves the sport," says Jason, who works in the insurance industry. "Very few players get to remain a part of the team. I'm fortunate to be able to do that."
He's still a team player in other ways as well. Jason serves as a mentor to Husky basketball players and to other student-athletes through the Boundless Futures program.
"It's very fulfilling to help shape and guide and be an ally for these players as they go through their journey," he says. "I've walked that same journey and know what it's like to need someone who's not a parent or a coach to talk to. There's trust and transparency and good fellowship."
Jason appreciates the vision of Head Coach Mike Hopkins and Athletic Director Jennifer Cohen, who want to develop student-athletes as leaders beyond the field of play. It resonates because Jason benefited from the same commitment.
"UW Athletics is an unbelievably supportive community — the connections you make, the access that it provides, the incredible education you receive," he notes. "It's easy to have a 'pay it forward' mentality. By volunteering and donating, you know there's a return on your investment in the quality of graduates and next generation of leaders the UW turns out year after year."