Coaches and Staff
The 'unbelievably fulfilling' tale of Keegan Cook's volleyball career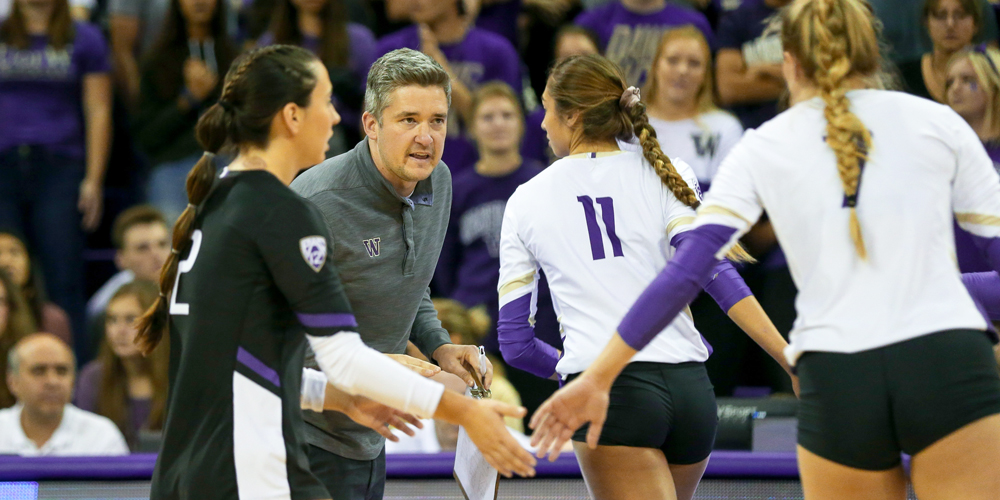 The seventh-year head coach invests in his student-athletes as he lives a lifelong volleyball dream
Keegan Cook's life story reads like a fairy tale — a sweetly-fated, feel-good, purple-tinged account of a California kid whose adventures in volleyball shaped every aspect of his life from college to career to true love.
Like many good stories, the UW Volleyball Head Coach's yarn begins with a hero: his big sister, Meg.
"As a kid, I was dragged around to all her volleyball tournaments," recalls Keegan. "I'd steal a ball from the cart and play by myself in a corner of the gym. We were close and competitive, and I wanted to do what she'd done."
After playing volleyball in high school, he followed Meg to St. Mary's College of California, where he volunteered to coach almost the moment he arrived. He also assisted with the high school and traveling teams his sister coached.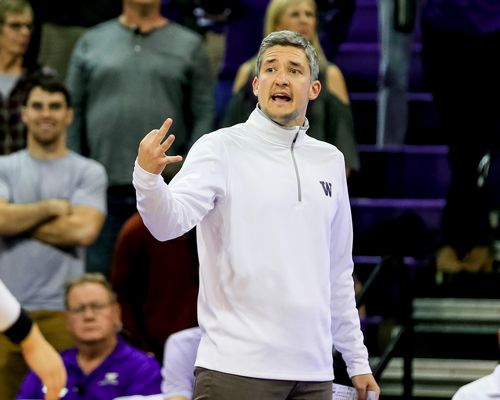 "For four years while the rest of my peers were going to music festivals or traveling abroad, I was spending all my free time coaching," Keegan explains. "When you're 18 years old and coaching 17-year-olds, you have to carry yourself in a manner that's very professional. You have to take your job very seriously. Everyone's expecting you to be mature. I was very conscious of those things early on."
His maturity and professional approach were rewarded. Keegan graduated from St. Mary's on a Friday in 2007 and, three days later, started his first professional job as a full-time assistant coach at his alma mater.
While he loved St. Mary's, Keegan was intrigued by the longevity, passion and values of all the UW coaches and staff he met while playing Washington. When an assistant coaching position opened at the UW in 2013, he won the role. It's the only job he's ever formally applied for.
"The way I express my competitive desire today is by investing in the young women I coach," he says. "When your vocation is to invest in people, the return is unbelievably fulfilling. When you can help someone grow and change the course of their life, that's a different level of joy. Teaching them to live their lives based on principles is critical and I try to remember that every day."
With a degree in mathematics, Keegan puts his analytical skills to use as a head coach who makes objective decisions about player rotations and practice schedules.
"I believe in the power of little behaviors repeated day after day so they become a powerful force in your life. What are you doing each day that will transform into a life-changing experience for you and everyone around you?"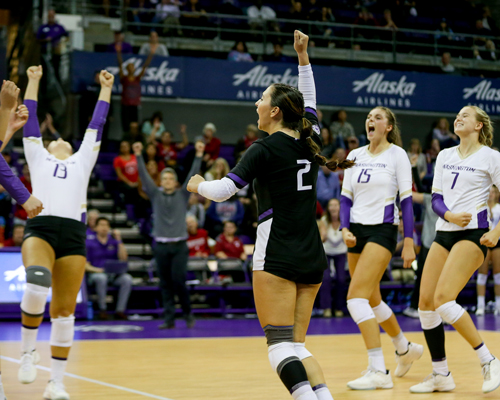 It's a philosophy that has paid off in three Pac-12 championships; six trips to the NCAA Tournament, including two appearances in the Elite Eight and one in the semifinals; and dozens of stellar players and proud UW graduates since Keegan joined UW Volleyball.
Now in his seventh year at the UW and his fifth as head coach, "the passion I feel for people in this department, this university, this city just keeps growing. Washington is a place that balances high achievement without sacrificing the true mission of college athletics in helping student-athletes grow."
Like any good tale, this one includes a love story. Keegan met his fiancée, Sarah, on a foreign tour with the team in 2017. A former pro volleyball player, Sarah joined Keegan in Italy this past summer when he coached the U.S. Team. Chances are, they'll live happily ever after.
Your gifts to The Competitive Edge Fund enable Husky Athletics to attract and retain skilled, dedicated coaches like Keegan. Your support for the Fund benefits you and the teams you love.