Student-Athletes
Walking on to a dream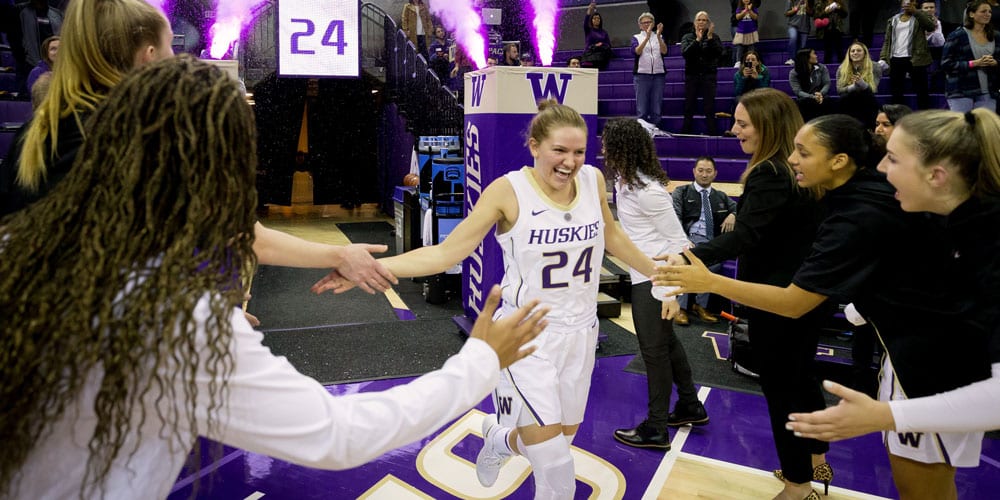 When Women's Basketball needed her the most, Jenna Moser came through — and earned a big surprise
Jenna Moser had everything she ever wanted growing up in the Palouse farm country of Eastern Washington. Little did she know that a dream she never aspired to would come true on the basketball court at Alaska Airlines Arena.
One of four daughters of a wheat farmer and school teacher in Colton (population 467), Jenna exceled in sports and academics. She led her high school to four state 1B championships, earning state player of the year honors twice before graduating with a 4.0 GPA.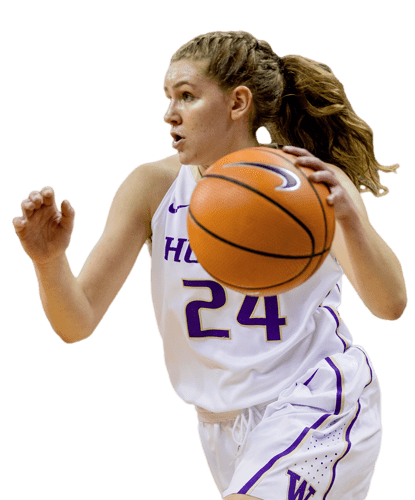 Despite her small-town success, she chose not to pursue a path toward playing college ball. But after she arrived at the UW, she missed the sport and emailed her way onto the practice squad.
"There was no mindset of wanting to continue to play competitively, but it was fun to learn opposing teams' offenses and volunteer to practice with the starters," Jenna explains.
Her sophomore year, the practice player made it onto the team, playing a total of 5 minutes that season and about 30 minutes the next. Then, in Coach Jody Wynn's first season, Jenna blossomed into a standout.
"We brought the girls out for training camp before school started and I was like, wow, who is this girl with such a motor!" Coach Wynn recalls. "Jenna was always the first one in the gym and the last to leave. Every player on our team adored her. She's just an A-plus kid who you want to clone 15 times."
As a walk-on, Jenna was still officially a volunteer — until September 2017. At the end of a long practice, Coach Wynn called the team together.
"I looked around and all my best friends were crying," Jenna remembers. "I couldn't figure out what was wrong. Then, Coach Wynn said, 'From this day forward, Jenna Moser will be on full scholarship.' Everyone tackled me. I don't remember much more besides calling my parents right away."
She says the validation "motivated me to work even harder." Jenna led the team in playing time last season and was the only player to start all 30 games, averaging 8.9 points, 3.2 rebounds, 2.6 assists and 1.9 steals per game. After earning a degree in finance, she returns this season as a graduate student studying intercollegiate athletic leadership.
Your gifts fuel their dreams

Learn more about your impact on scholarships.