Programs and more
'We have big expectations'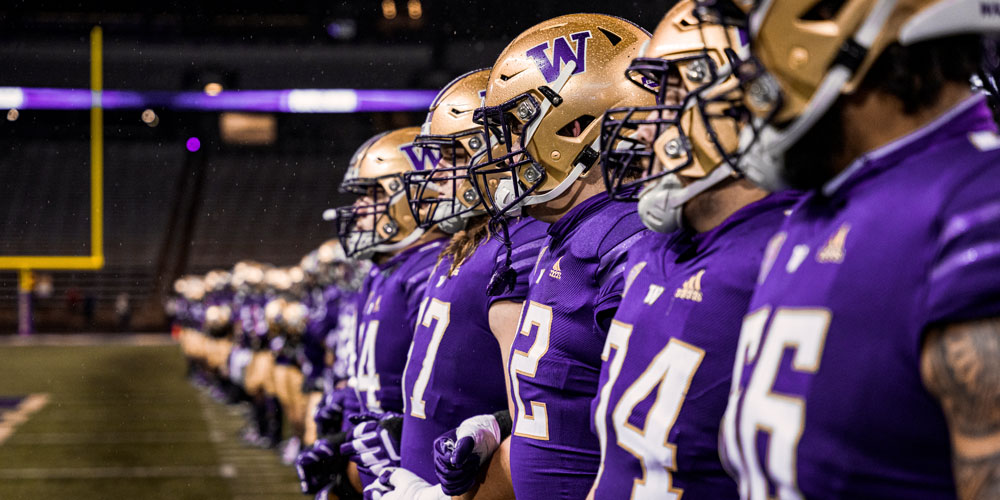 There's never been a better time to be a Husky Football fan.
The uncertainty that dominated the pandemic-plagued 2020 season is in the rearview mirror, replaced by a relentless determination to compete and win. And with 20 starters returning to the team, Husky Nation has lots to be excited about.
Having so many seasoned players back this year "raises the play of everyone," states fifth-year tight end Cade Otton, who had a team-leading 18 receptions last season. "We're not wasting a lot of time getting up to speed. We can run, not walk or crawl. And there are lots of experienced guys to bring the new ones along. I always look forward to seeing how much the guys grow as players and people. It's so fun to be part of it."
The tough times they went through together in 2020 gave the Huskies even more momentum for 2021, he adds.
"We were so together as a team last year. We were able to rely on each other," notes the Tumwater, Washington, native. "Every time a game got cancelled or something else happened, we had a choice: We could sit around and mope about it or we could go back to work, keep practicing and get better. And every time, that's what we chose to do."
A sense of gratitude permeates the team, Cade emphasizes — gratitude not only for being able to look forward to a more normal season but also for all the donors who've stepped up "to make what we do possible."
Majoring in entrepreneurship at the Foster School of Business, Cade is also grateful for a new role he's playing this year: newlywed. In January, he married Sierra Snyder, who he met in the eighth grade.
Marriage, graduation and, hopefully, a championship season are sure to make Cade's fifth and final year at Washington a winning one.
"We have big expectations," he concludes. "We're hungry to get you guys back in the stadium and we're working as hard as we can to win for you."
2021 Football Renewals Coming Soon!

Tyee Club members, keep an eye on your email inbox. We'll be sending out Husky Football season ticket renewal information soon!