Faced with his grandfather's ALS diagnosis, UW Men's Soccer midfielder Lucas Meek finds resilience and a way to make a difference in his honor.
Lucas Meek's world turned upside down in 2020 when he discovered his grandfather was diagnosed with Lou Gehrig's disease, or amyotrophic lateral sclerosis (commonly known as ALS).
"That news shook my family pretty hard. Luckily, he's still with us, but it's been challenging to witness his decline," says Lucas, a redshirt senior on the UW Men's Soccer team. "Once it started to sink in, I began thinking of ways to honor him and his memory, as well as give back to the ALS community that's been so supportive," Lucas recalls.
Collegiate sports underwent a significant change in 2021 when NCAA released its guidelines permitting student-athletes to earn compensation for the use of their name, image or likeness (NIL). Lucas deviated from cashing in for personal gain and instead partnered with Vintage Brand to help market soccer merchandise and create a T-shirt design with the logo for ALS. This is a peerless example of how student-athletes are using NIL for a virtuous cause.
During this time, Lucas also began running fundraising ideas by his Head Coach, Jamie Clark.
"He said, why don't you do a whole tournament? After a brief consideration, I thought, yeah, why the heck not?"
Lucas didn't know what to expect in terms of all of the logistics, but his perseverance paid off. "The event was wildly successful — over 50 teams participated, and it raised $40,000," he says proudly. Lucas received generous support from coaches Jamie Clark, Richard Reece and Mark Rollings, as well as Kaycie Hutchins, Director of Operations for UW Soccer. Additionally, every one of his teammates participated in the event.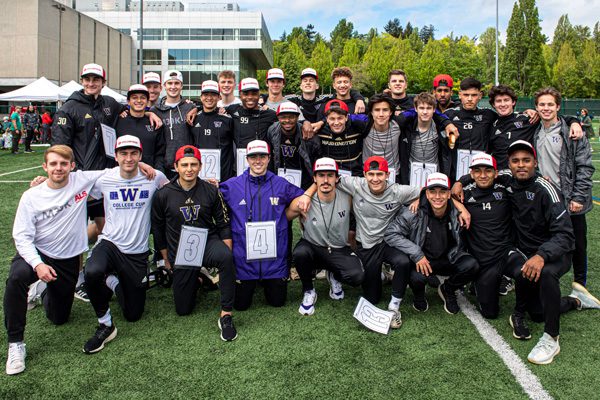 The Kick 4 ALS tournament was so lucrative that the ALS Association Evergreen Chapter requested he put it on annually, and he agreed. But perhaps more important, Lucas' grandfather astounded his family by showing up to the tournament. "Having him there, sharing that experience and seeing the smile on his face was profound; knowing it all started with him made it a very special day," Lucas expresses.
Whether Lucas is organizing big fundraising tournaments or giving his all on the field, Head Coach Jamie Clark sees something special in him. "Lucas has an unrelenting positivity; he's a strong-willed young man and doesn't allow adversity to influence that determination," Jamie says. "There's a lot happening behind the smile."
In his final year with UW Men's Soccer, Lucas is one step closer to bringing that unflappable attitude on a return trip to Cary, North Carolina — the site of the 2022 Men's College Cup. The team recently clinched the Pac-12 Championship with a 14-0-3 record. Their fourth title in program history gives them an automatic bid to the NCAA Tournament. After college, he looks forward to a promising future as a professional soccer player and a full-time position with the accounting firm Ernst & Young.
"Thank you doesn't feel like it's enough to convey my deep gratitude to the donors and alumni that have prepared me for the next stage in my career," Lucas declares.