Donors and Difference-Makers
A legacy for Kevin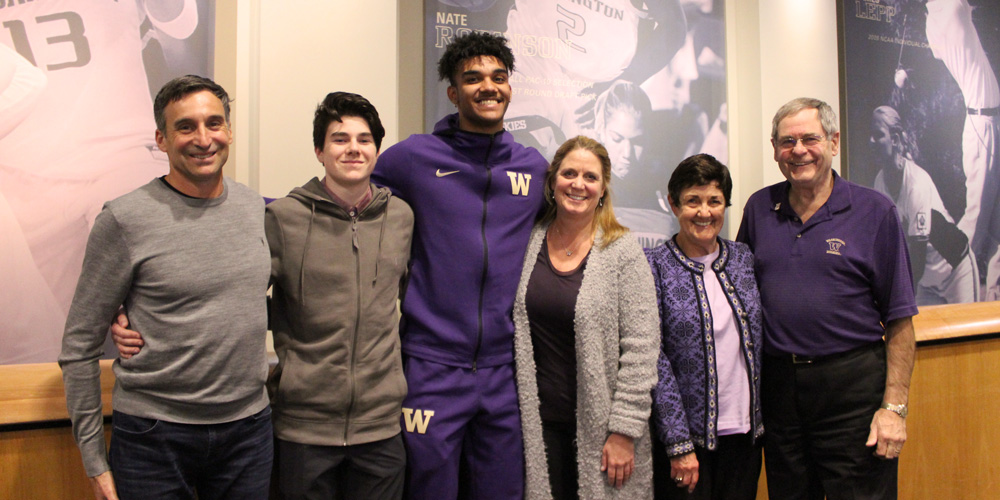 Family and friends come together to honor the life and enduring Husky love of a devoted fan.
Katie (Cummings) Rossmeissl idolized her big brother, spending endless hours rebounding the basketball as Kevin shot hoops in their driveway.
"As the loving but annoying little sister, I always wanted to be around him. The basketball court was where he let me do that," recalls Katie.
The siblings lived and breathed purple and gold, singing the Husky fight song as they made the long walk to and from their Vashon Island school bus stop every day. They joined their parents in the volunteer first aid booth at football games, marveling at the powerful student-athletes and dreaming of becoming Washington students themselves one day.
Their dreams came true. After a year playing basketball at Whittier College, Kevin transferred to Washington, graduated in 1986 and went to Notre Dame Law School. Katie earned her degree from UW in 1989.
But their joy was short-lived. At the age of 28, with a wife and young child, Kevin was diagnosed with Hodgkin's Disease. He passed away four years later.
"While he was being treated for cancer, Kevin wanted to show his son, Connor, how much the UW meant to him. So, they went to games together for as long as Kevin was physically able," says Katie.
"After Kevin died, one of his close friends came to me with the idea of founding an endowed scholarship in Kevin's memory. I was blown away, just amazed that they would want to do this for Kevin. It became a friends and family scholarship."
Now Katie and her husband Matt, along with Katie's parents Gary and Shirley Cummings, are continuing Kevin's legacy by supporting the endowed scholarship in their wills and estate plans as members of Forever Washington.
"This scholarship will be there forever and Kevin's name will live on in perpetuity," Katie explains. "I can relax knowing that it's something that will always be there to provide an education for Husky student-athletes. It's something I can do in my life to honor his life."
Make a lasting impact with Forever Washington

We offer a number of giving options for those who wish to leave a legacy through Forever Washington.

Support the team or area you're most passionate about by making an outright gift or by creating a program or scholarship endowment. You'll earn priority points and experience special benefits when you join. Email or call us at 206.543.2234 to start a conversation today.