Photo: Meryl Schenker / University of Washington Magazine
Junior Coffey's spirit lives on in endowment to benefit Husky Football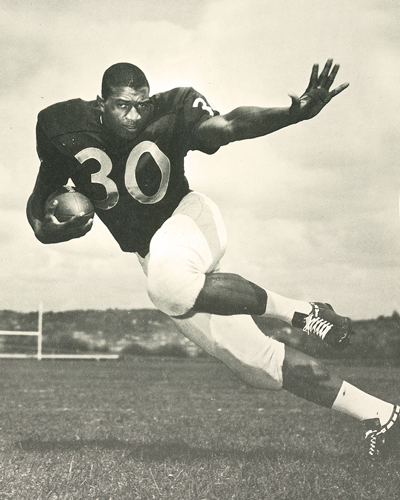 Everyone who remembers Husky running back Junior Coffey mentions his smile. The way his face lit up on every play. The joyful grin in even the hardest practices. A spirit undaunted by the everyday hardships of being a Black student-athlete in the turbulent 1960s.
"The best feeling that I ever had in a huddle was looking across at Junior's smile. He was a wonderful teammate you knew you could count on, very genuine and very competitive," describes Husky Hall of Famer Rick Redman.
A star high school player in rural Dimmit, Texas, the 6-foot-2, 215-pounder dreamt of attending one of the big Southwest Conference colleges. But the SWC, along with most other conferences, was not yet integrated.
Fortunately for the Huskies, the Pac 8 welcomed Junior. He led Washington in rushing and total yards in 1962 and 1964, helped the team to a Rose Bowl victory, and earned countless All-everything honors (including being inducted into the Texas High School Football Hall of Fame in 2015).
He went on to play seven seasons in the NFL, where he won a Super Bowl ring with Coach Vince Lombardi's Green Bay Packers. After retiring from the NFL, Junior turned a love for horses into a long and successful career as one of the first Black thoroughbred trainers on the West Coast.
"I wouldn't be where I am now if it hadn't been for the opportunity to come here and play," Junior told interviewer Jim Caple for The UW Magazine in 2018.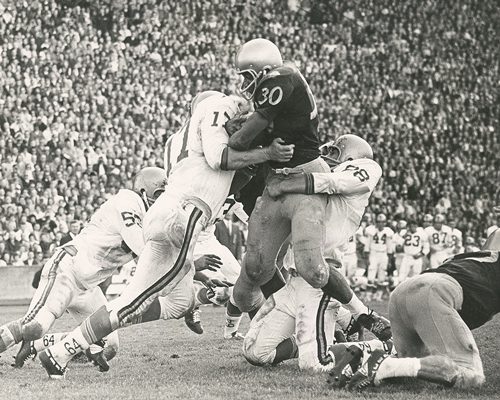 When Junior passed away at age 79 in August 2021, his friends and fans decided to create an endowment in his name to benefit Washington Football.
"Raising money to honor Junior was one of the easiest things I've done in my life," says classmate, longtime friend and horseracing colleague Ron Crockett, who spearheaded the 24-hour effort to raise more than $115,000 in commitments.
"I asked 19 people and 18 said yes. Now, Junior's widow Kathy will have a forever connection to Husky Football."
His friends were largely unaware of how tough it was for a small-town Texas kid to trek halfway across the country to a big city and University with relatively few Black students. According to both Rick and Ron, Junior didn't talk about racial inequities until many years later.
"Junior knew that there had to be people who came before to pave the way for those who come after," says Kathy Coffey. "This fundraising effort brings everything full circle. He would have been so pleased that people are remembering him in this way."

You can create an enduring legacy at Washington Athletics by creating your own endowment. Contact us at tyeeclub@uw.edu or 206.543.2234 to learn more.