Programs and More
Building a championship culture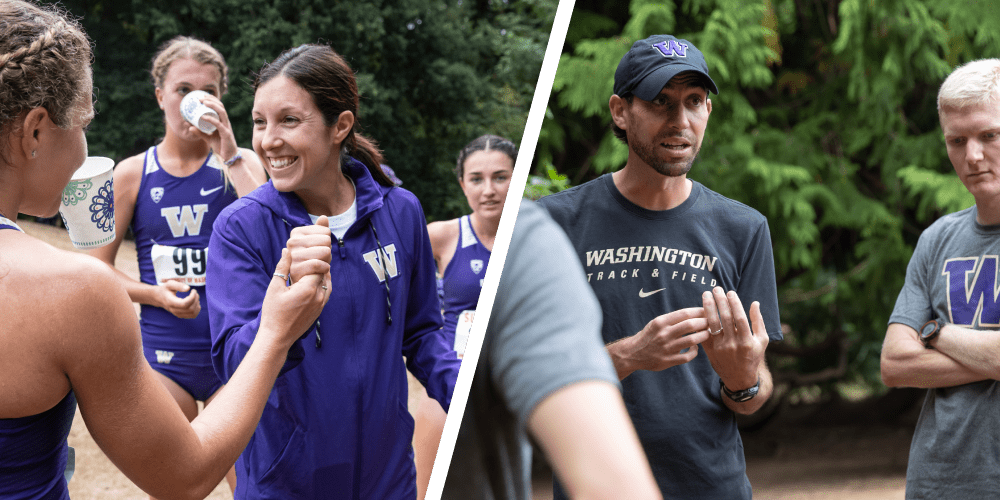 Lured to Washington by vision and values, new UW Track and Field/Cross-Country coaches build toward a winning future
Maurica and Andy Powell were happy at Oregon. They'd helped develop an enviable powerhouse program over 13 years in "TrackTown USA". Their two sons were born and raised in Eugene. Life was good.
Then, unexpectedly, Washington came calling.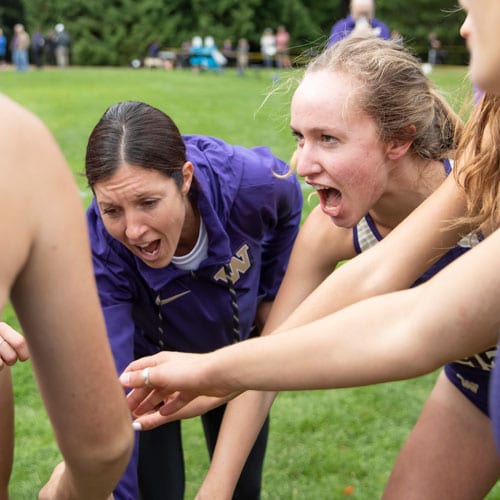 "We were flattered and surprised, and so compelled by the people here," says Maurica. "We were blown away by their vision for the Athletic Department and their core values, the sense of everybody rolling up their sleeves and working hard with grit and humility."
"More than anything, it was how they took an approach with their student-athletes to always put them first. Winning is good, but it's not the most important thing. It's about the student-athletes," adds Andy, who met his wife in college when they were both runners in Stanford's track program.
Within a week of their initial conversations, the couple — who produced 19 NCAA team titles during their stint in Eugene — committed to taking the reins of Husky Track and Field and Cross-Country. Almost before they could catch their breath, they headed north with their sons, Owen, 12, and Jake, 8.
They set about assembling a coaching and operations staff deeply committed to developing student-athletes as scholars, competitors and good human beings. With support from the administration and loyal donors to their program, they're eager — yet patient — to build champions.
"We don't want to cut corners, but we want to be a top 10 team as soon as possible, eventually contending for trophies across the country and for national titles in indoor and outdoor track," Maurica states. "We want to create a culture where everyone in our program is helping us get better and impacting the greater good."
The coaches' drive to develop a championship culture on the team is already taking hold.
"The Powells are awesome, and they've fostered this positive environment where everyone is excited to go to practice and everyone is really pumped up about the direction our program is heading," says Cross-Country standout Emily Hamlin, a senior studying for her degree in psychology (and earning 4.0 GPAs along the way).
"It's just exciting to be a part of that," added the 10-time Idaho state champion. "I think we have such an eclectic group, we have transfers and a lot of freshmen and then returners. I think the way that we've come together is just awesome."
Support Track and Field/Cross-Country

You can support UW Track and Field/Cross-Country with a team gift or by making a donation to The Competitive Edge Fund.