Derek brings to the UW a decade of experience at club, NCAA and National Team levels. He spent four seasons at California, the final two as acting/interim head coach, and helped the Golden Bears to year-end Top-20 national rankings. He also was head coach of the U.S. Under-19 Boys and Under-15 Girls National Teams and the Moroccan National Team. Derek earned multiple top-10 finishes in his pro career. He holds a Bachelor's degree in human physiology from Oregon and a Master's of Coaching & Exercise Science from Concordia University of Irvine.
How did you get interested in volleyball?
I grew up in Eugene, Oregon, with a dad who played and coached volleyball. I was that annoying kid who interrupted his teams and practices.
You went to Oregon, which doesn't have men's beach volleyball. How did you develop your skills to the point you could turn pro?
I started playing at 19 on an indoor club team at Oregon. But I knew that as soon as I graduated, I was heading south to San Diego for the lifestyle, the sunshine and the challenges of having to be an all-around athlete in a physically demanding sport. I naively set out to find a place to live on the beach. I was there for almost 11 years and got to travel the world playing professional beach volleyball.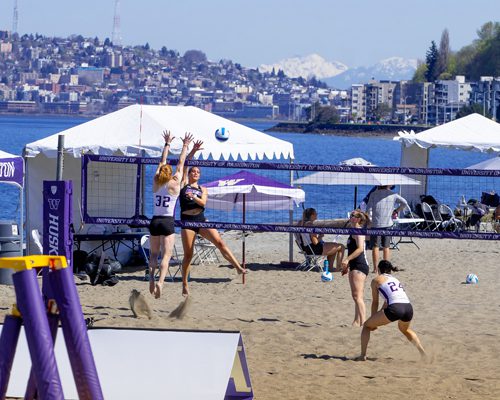 What made you decide to pursue coaching?
Through years of hard work and dedication, I was able to do some pretty incredible things in my sport. If I could reach the highest point of the game — starting late at 19, being short for volleyball, from Oregon — then I knew there was something to this process. I started coaching high school athletes and I found myself focusing more on developing them than developing my own game. That's when it dawned on me that coaching was becoming my passion.
Why did you leave Cal, where you coached for four years, to come to Washington?
Very few schools know how to balance academics and athletics to give student-athletes the best possible experience. Washington really supports its student-athletes. And the sport itself is exploding. To make beach volleyball more prominent at the UW, we're going to have to develop the right way and bring in the right athletes on a skills and character level. Year after year, it'll be one of the most engaging and promising sports on campus.
What do you hope your student-athletes learn from being part of this team?
They have a small window of time to take advantage of the resources here and be in a team environment where they can learn skills for the sport that also will help them in life. If we do it right, we're setting them up to be very successful in whatever they choose to do after four years. The sport is just a vehicle to bigger and better things.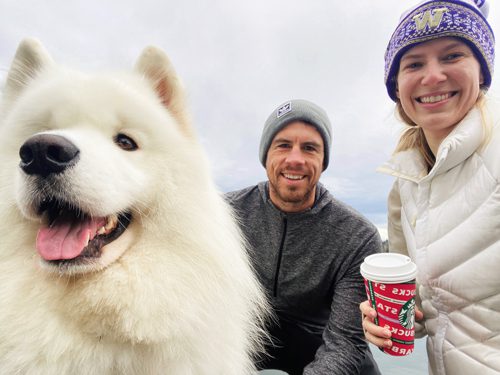 And the team has a new mascot?
That's Messi, my wife Steph's and my 3-year-old Samoyed. He's like our son and goes everywhere with us. He'll be at practices and games as an unofficial team mascot.