Student-Athletes
Culture, diversity and soccer shape a young woman's dreams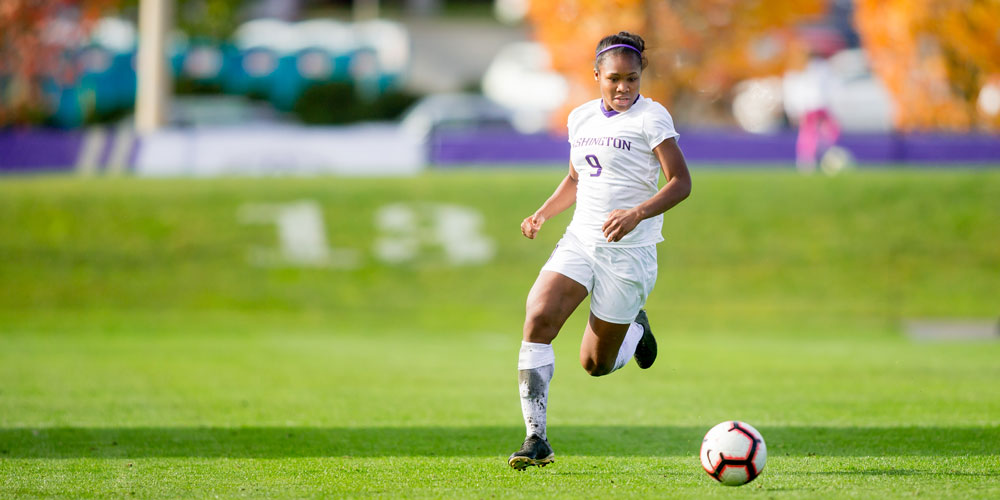 Mireya Grey's rich and varied ethnic heritage makes its mark in everything she does and all she hopes to be — from playing soccer to traveling the world to advocating for youth.
Her father is Jamaican, a former pro soccer player. Her mother is half Native Alaskan and half African-American, influenced deeply by Alaskan art and culture. Mireya learned to speak Arabic and Spanish growing up in a culturally-diverse Seattle neighborhood.
Despite her paternal soccer roots, Mireya "could not stand soccer" as a kid.
"Break dancing was my thing. I used to do head spins in the grocery store and battle against other break dancers at the community center," the senior sociology major remembers. "My dad would bring my brother and me out to train in soccer and we'd cry. Then, I started watching pro soccer. I felt that if I could play like them, I might like soccer. And I started to fall in love with it, carrying soccer balls into grocery stores instead of dancing."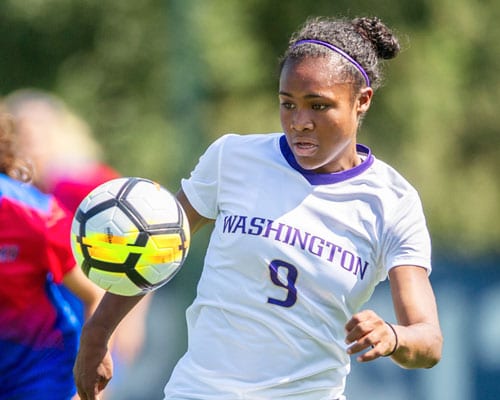 She brazenly proclaimed to her father that she would play in the World Cup one day — and she did, earning a spot on the Jamaican National Team and playing in Paris in 2019.
Not all her soccer dreams came true. She suffered injuries halfway through her first year at the UW and felt unprepared for college academic demands. She scored her first Pac-12 goal the next year, but it was a disappointing season for the team. Then, Mireya tore her ACL in her junior season.
"Now in my senior year, I've yet to really capitalize on a full season with the UW," she says, hopefully. "I'm able to help others going through similar challenges. I can minister to people on how to get through these things."
Her youthful passion for languages lingers on. Mireya is minoring in Spanish and studied abroad in Peru for a month. The church youth leader and pianist hopes to play pro soccer and eventually bring soccer development into undeveloped countries, especially for women.