Husky Athletics and the UW Foster School of Business partner to prepare student-athletes for life during and after sports.
Sometimes, it's overwhelming to be a student, an athlete and a young adult hoping to leverage a college experience into a future career.
The evolving landscape of intercollegiate athletics presents Washington student-athletes with opportunities that may both excite and confound them. The Foster Leadership Academy helps them navigate decisions and actions that will affect the rest of their lives.
Senior Husky Men's Soccer player Gio Miglietti was one of the first 25 student-athletes to participate in the certificate program. He says the Academy helped him learn more about himself and his values, develop more confidence, and express his opinions with genuine conviction.
"I knew I wanted to take on a greater leadership role with the team during my senior year, but I wasn't sure how to go about it," say the California native, an only child from a Uruguayan/Italian culture. "I learned that you can't treat everyone the same to get the results you're looking for. Now, I'm able to develop stronger relationships with everyone around me."
The Academy falls under the umbrella of Boundless Futures, which provides a wealth of resources for personal, professional, leadership and civic development. The program relies in part on UW alumni who volunteer to guide and mentor student-athletes.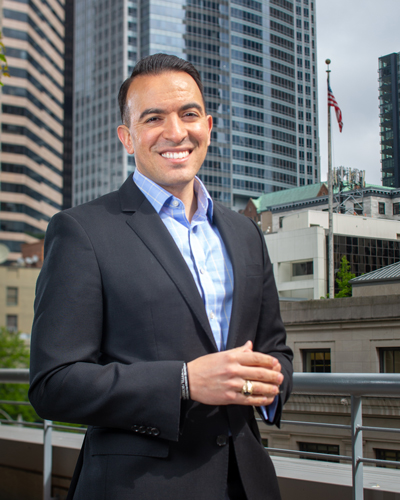 West Point graduate and former U.S. Army officer Josh Rodriguez earned his MBA from the Foster School. He lectured in the Academy, which is built on four "authentic leadership pillars": Transparency, Balanced Processing, Self-Awareness and Moral/Ethical Perspective.
Josh talked with Academy students about resilience and decision-making, using his harrowing experiences in Afghanistan to illustrate the consequences of an ethical and well-thought-out decision that yields devastating results.
"At end of day, your decision may not result in the best outcomes, but you need to be able to live with it," explains Josh, who works for Goldman Sachs and serves on the Foster School Board. "How do you hold yourself accountable? If it doesn't play out, how do you continue?"
Funded in part by Tyee Club donors, Boundless Futures "ensures that student-athletes leave the UW equipped to succeed for the rest of their lives," Josh says.
As the new era of college athletics continues to develop, Washington Athletics will hone and expand programs, resources and mentorship opportunities to help student-athletes capitalize on every new opportunity.
What is NIL?

What is NIL and how did it come about?
The NCAA has long prohibited college athletes from accepting money related to the use of their name, image or likeness (NIL). Over the last few years, the NCAA, federal and state lawmakers have pushed to permit student-athletes to benefit from their NIL, with 25 states recently passing laws and the NCAA modernizing its rules to allow student-athletes to capitalize on their NIL while still representing their universities. While colleges and third parties still cannot pay student-athletes to play, athletes can make money from other sources — just like every other Washington student has always been allowed to do.

How will student-athletes be able to capitalize on NIL?
They might be compensated as social media "influencers," who earn money for promoting products or services online. They could sell autographs, secure endorsements from companies, be paid for teaching in athletic camps or clinics, earn money from personal appearances or ads, or start their own businesses.

What rules are in place to guide these new standards?
The Washington Legislature has not yet enacted NIL legislation, nor has Congress passed a sweeping federal law. NIL opportunities may be different at different schools without a uniform NIL law. Husky Athletics is following NCAA guidelines that:

Permit the use of their NIL to gain compensation
Allow student-athletes to hire an attorney or agent to guide them
Prevent schools or third parties from using prospective NIL deals in recruiting

Husky Athletics has developed its own institutional policies to guide student-athletes.

What is Husky Athletics doing to prepare student-athletes to navigate NIL opportunities?
Since 2018, the UW has been developing comprehensive programming to provide student-athletes with the mentorships, training and education needed to maximize this new opportunity through our Boundless Futures program. We will continue to leverage UW's platform, alumni network and Seattle location to provide other resources to help student-athletes seize NIL opportunities.

Can Tyee Club donors partner with student-athletes for NIL activities?
Yes, as long as long student-athletes disclose their activities prior to signing a deal and follow our ICA policies. Visit GoHuskies.com/NIL to learn more. Questions? Please contact Sr. Associate Athletic Director Jamaal Walton at 206-543-4611 or waltonjo@uw.edu.