When the Huskies perform, your gift performs, too
Impact your team, impact your seats.
There's a new reason to cheer for every touchdown the Huskies score this season! By committing to the new Pledge Per Touchdown campaign, you'll make a difference for Washington student-athletes every time the Dawgs cross the goal line.
Simply choose an amount per touchdown you'd like to donate — $5, $10, $100 or more — and your total gift will be calculated at the end of the season. Last year, the Huskies scored 62 regular-season touchdowns. Let's hope for even more this year!
Learn the details and make your pledge today! (For extra fun, you can double your pledge for games against rivals Oregon and WSU.)
Every gift goes to The Competitive Edge Fund, which supports all the essentials for student-athlete success. For season-ticket holders, your gift will earn 1.5 priority points for every $100 donated ­— just in time for seat reallocation!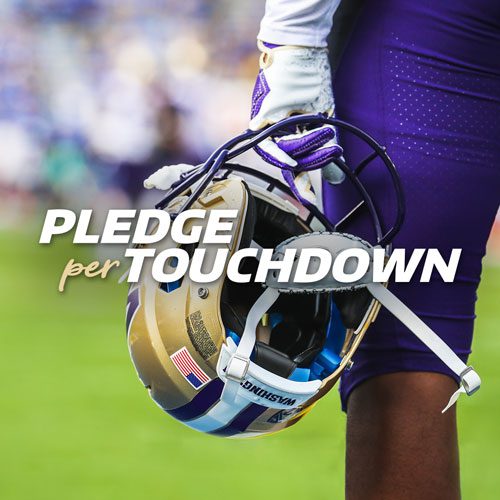 Impact your team, impact your seats
Each week, we'll update our touchdown counter so you can follow along and watch your impact grow!
Total Touchdowns: 27
vs Boise State: 8
vs Tulsa: 6
vs Michigan State: 5
vs Cal: 8